Listen to this blog post here

1913-1955
Some famous 20th-century boxers got involved in U.S. and Mexico enterprises offering gambling, some of which, but not all, were knockouts.
Jack Johnson
Jack Arthur Johnson (1878-1946) was the first of the group featured here to enter the gambling arena.
This world heavyweight champion between 1908 and 1915 opened and ran two nightclubs in Tijuana during his years of self-exile there, starting in roughly 1913. (He'd fled to Mexico from the U.S. to avoid doing time for his conviction for having violated the Mann Act.)
Johnson had two clubs. One, the Newport, just off of the city's main tourist strip, catered to black people. Gambling, boxing and entertainment took place there.
His other club, the Main Event, was for whites. It likely offered gambling, too, but this isn't certain.
Gambling had been legal in Baja, California since February 1908. The law permitted most types of dice and card games and racing but banned roulette and slot machines. However, many casinos and clubs ignored those restrictions.
Johnson curtailed his south of the border entrepreneurial streak in 1920 by returning to the U.S. to serve his prison sentence.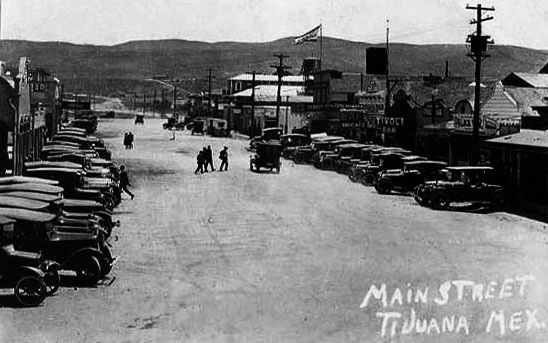 Jack Dempsey
In 1928, Jack Dempsey (né William Harrison Dempsey, 1895-1983) became involved in a hotel-casino in Ensenada, Mexico. At the time, Prohibition was in effect and gambling mostly was illegal in the States. Dempsey no longer was the world heavyweight champion.
That year, construction on Hotel Playa of Ensenada began after Cía. Mexicana de Rosarito acquired the property using mostly capital from U.S. investors.
"The promoters had shrewdly aligned Jack Dempsey to the enterprise," Maria Bonifaz de Novelo wrote in the article, "The Hotel Riviera Del Pacífico." Dempsey "was married to a Hollywood star, Miss Estelle Taylor. Their names alone guaranteed a surefire promotion." One list of the business' executives showed Dempsey as president; another indicated he was second vice president.
Also, it's unknown whether he contributed any money to the project or received shares in exchange for his role in it. Reports on both points are mixed. What is known is the company built a luxurious house for Dempsey adjacent to the hotel-casino.
The $2 million resort on the beach opened on Halloween night, 1930. Per Mexican law, the casino only offered gambling between 8 p.m. and 2 a.m. daily, and excluded all servicemembers, police and people under age 21 from playing.
Whereas the Hotel Playa of Ensenada remained in business for eight years, albeit somewhat of a struggle but attracting high-profile guests, such as Lana Turner, William Hearst, Marion Davies and Myrna Loy, Dempsey's involvement with it was short-lived. Reportedly, he resigned shortly after the grand opening because he disagreed with how management was running the hotel. He never stayed in the home built for him.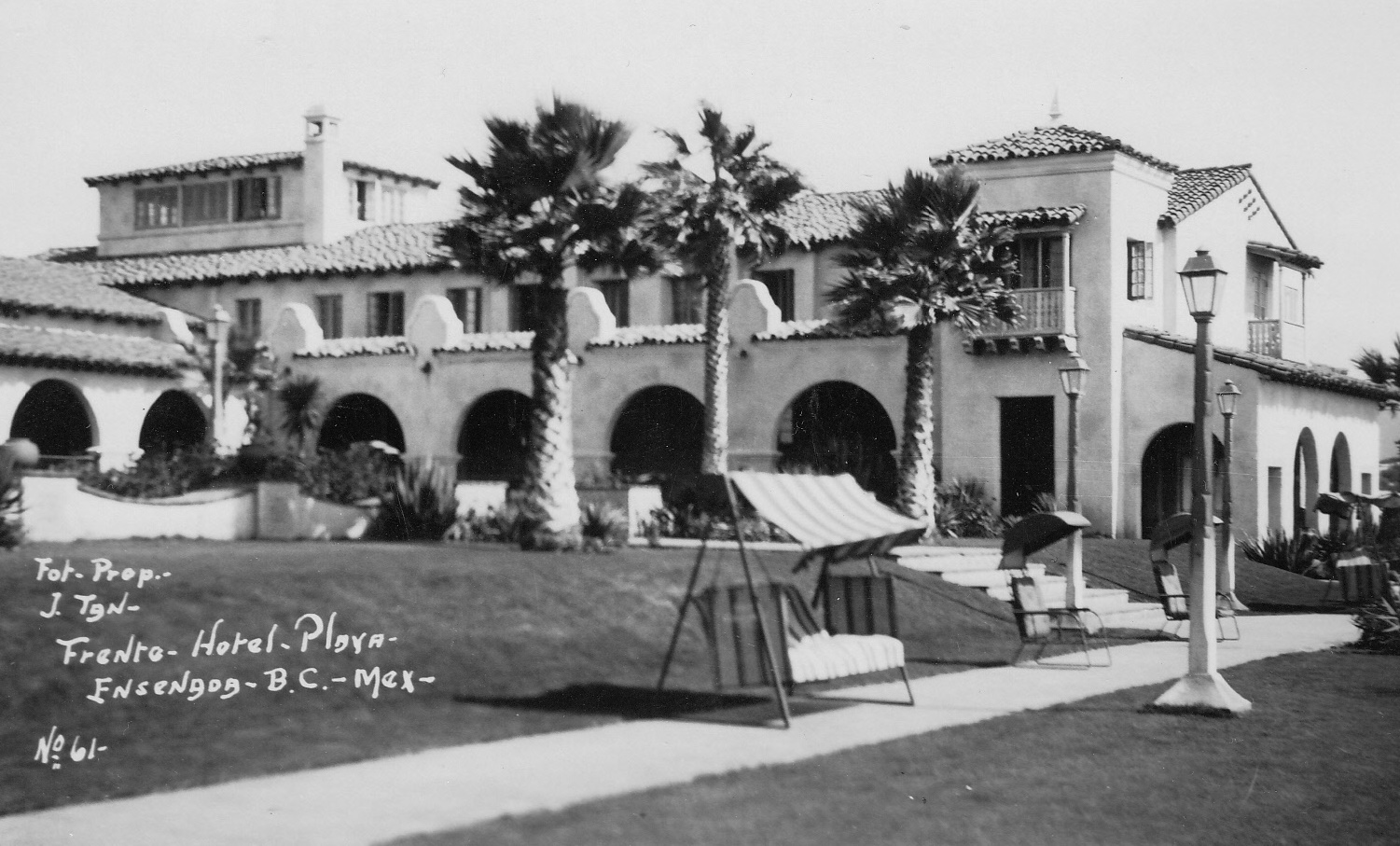 Also during this period, Dempsey bought $100,000 worth (about $1.6 million today) of shares in the company that built and owned the Agua Caliente Casino and Hotel in Tijuana. Also, he agreed to help one of the principals, Wirt Bowman, "line up a new group to promote fights" at the resort, the El Paso Herald reported (Aug. 6, 1929).
In 1931, Dempsey partnered with big time Reno, Nevada Mobster-gamblers in a different type of undertaking. He, William "Bill/Curly" Graham and James "Jim/Cinch" McKay set out to promote boxing locally.
In preparation for a planned upcoming bout in The Biggest Little City, the trio had about $100,000 worth of improvements (about $1.75 million today) made to Reno's race track and fairgrounds on North Wells Avenue. The upgrades and enhancements included construction of an outdoor boxing arena and a clubhouse featuring a casino, dining room and boxes, installation of a loud speaker system along with grandstand remodeling and expansion.
The work began in late April, not even a month after the Nevada Legislature legalized gambling. The improvements were done in two months, in time for the start of a summer horse racing meet and the July 4, Dempsey-refereed fight between heavyweights Max Baer and Paulino Uzcudun (the latter won by decision in 20 rounds).
At the improved Reno facilities, patrons participated in parimutuel gambling at machines trackside and played games of chance in the clubhouse casino.
Buddy Baer
Prizefighter Buddy Baer forayed into the gambling club business in Reno in 1950. In March, Baer (né Jacob H. Baer, 1915-1986) and restaurant-bar operator Fred Cullincini debuted Buddy Baer's at 136 N. Center St. in Reno, the former site of the Bar of Music club. Buddy Baer's offered drinks, dining, entertainment and slot machine gambling.
At the time, Baer no longer was boxing and instead was acting and performing in nightclubs. Also, he still owned, with Cullincini, a similar venture (likely without gambling) in Sacramento with the same name (later changed to Bar of Music), which opened in 1945.
About 10 months after debuting the club in Reno, Baer presumably bowed out as Cullincini changed its name to Freddie's Lair. It went out of business in October 1951.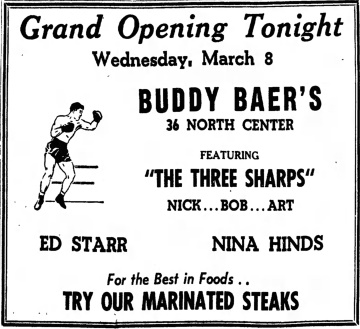 Joe Louis
In 1955, former world heavyweight champion Joseph Louis Barrow (1914-1981) and other investors built and opened the history-making Moulin Rouge, Nevada's first desegregated hotel-casino. From the owners and employees to the patrons and entertainers, this Las Vegas hotspot was fully integrated.
Louis was the spokesman for the resort, which featured a hotel high-rise containing 110 rooms and a casino equipped for 21, craps and with slots. Other amenities included a bar, showroom, swimming pool, restaurant and dress shop.
Despite the big names it drew, both black and white, the business closed six months later, and the casino filed for bankruptcy.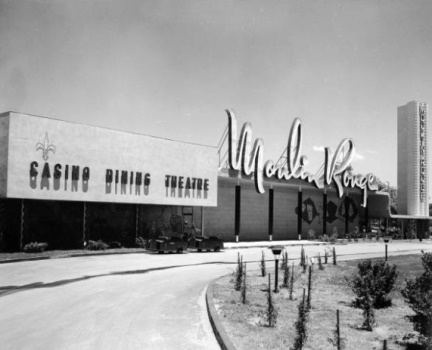 Are there other associations between boxers and gambling-related businesses we didn't include? If so, we'd love to hear about them.
———————————
Photo of outdoor boxing arena: by Paffrath Studio, from the University of Nevada, Reno's Special Collections and University Archives
channel telegram indocukong