Listen to this blog post here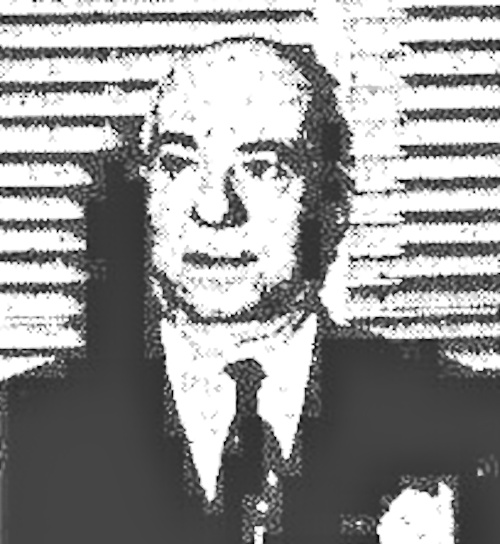 The colorful career of San Francisco-born Joseph Zemansky (1877-1953) spanned three industries and two countries. After childhood in Sacramento, he spent several decades in California before settling in Nevada.
Here are 10 highlights of Zemansky's professional life and experiences:
Gambling
1) Zemansky helped establish and operate the immensely popular Agua Caliente Casino and Hotel in Tijuana, Mexico, which opened in June 1928. Along with four others, he was part of the Mexican Development Co., the group behind the resort and initial owners of its gambling concession.
2) Zemansky and his Mexican Development Co. partners came under Internal Revenue Bureau (IRB) scrutiny in 1930 for not reporting for tax purposes their share of $550,000 ($8.9 million today) that the group's head Wirt Bowman divvied between them. The likely skimmed money had come from Bowman's records-less Agua Caliente "concession fund," or bribe fund more accurately. When tax men questioned the quartet, three denied ever receiving any money, and the other two, Zemansky included, claimed they'd only borrowed money from the fund. Lacking proof, the IRB dropped the issue.
3) Zemansky had Mobster dealings. In 1934, he and his brother-in-law Barney Morris opened a bingo club in Kansas City, Missouri called Club Fortune. The two owned 50 percent, and Kansas City Combine boss John Lazia owned the 50 percent.
4) The Mafia victimized Zemansky, allegedly. When Lazia was murdered, his successor Charles Carrollo assumed his half-interest in Club Fortune. Then in 1938, Carrollo forced the two to sell him their stake for a ridiculous price, $1 according to one report, $10,000 according to another. (The club generated about $60,000 a month, about $1.1 million today!) The transaction took place, but Zemansky asserted Carrollo hadn't coerced him and Morris into it and the deal had been profitable.
5) Zemansky debuted another Club Fortune in 1937, this one a nightclub in Reno, Nevada with a casino, cocktail lounge and entertainment, which became known for its large, tango offering. After a successful, 10-year run, Zemansky closed the business in 1947 when the property lease expired.
"At the time it was the outstanding night spot in Western Nevada, featuring an unusual decorative theme of potted palms," wrote the Reno Evening Gazette (Jan. 12, 1953).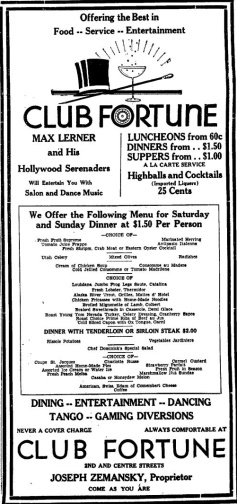 Other Business
6) Zemansky's other businesses included: Diamond Palace, a pawn shop and jewelry store he and his brothers ran for years, and the House of Props, which rented furnishings, sets and objects to movie studios and theater companies, both in Los Angeles, as well as Heaney's Jewelry & Loan Co. in Reno, co-owned with George Heaney.
7) Zemansky discovered and, for several years, managed boxer Jack Johnson who went on to become a world heavyweight champion.\
Crime
8) Zemansky was robbed twice at his Los Angeles home, in 1933 and 1934. The second time, two masked gunmen bound Zemansky, his wife and nephew with neckties, made Zemansky open the vault and stole $5,000 ($100,000 today) in jewels and $200 ($4,000) in cash.
9) Zemansky was arrested in Reno in August 1945 for leaving open Club Fortune's basement door, thereby violating a city ordinance. His punishment was a $10 ($150 today) fine.
10) Zemansky passed away from a heart attack at age 75 on January 12, 1953. He was in San Bernardino at the time with his wife, visiting her sister on their way to Palm Springs.
Do you have any additional information about Zemansky to share? 
——————————————-