Listen to this blog post here
This is the first of a series of posts related to and leading up to the release on Dec. 6 of A Bold Gamble at Lake Tahoe: Crime and Corruption in a Casino's Evolution by this author. The nonfiction book chronicles the often-unbelievable, conflict-filled early history of the Incline Village, Nevada-based hotel-casino that today is the Hyatt Regency Lake Tahoe Resort, Spa and Casino.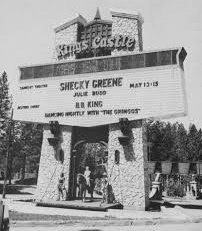 1970-1975
More than nine centuries after her purposeful and likely shocking stunt* in Coventry, England, Lady Godiva provoked controversy at a hotel-casino on Lake Tahoe's North Shore.
When Kings Castle debuted in Incline Village in 1970, a nude Lady Godiva astride a horse and flanked by two medieval, sword-wielding sentinels (all replicas, of course) welcomed guests at the resort entrance. Situated in the archway of a tall, stone wall, the long-haired beauty appeared to be about to pass through a gate and cross a drawbridge.
In Poor Taste
A contingent of Northern Nevadans considered the Lady Godiva statue offensive, presumably because the subject was naked. That sentiment extended to other elements of Kings Castle, too, including the nude revue FLESH featuring topless showgirls performed there and the "Thy Kingdom Come" sign outside the hotel.
The Nevada resort, inside and out, bore the look and feel of England's royal architecture during its Tudor period, about 1485 to 1603, however, the real Lada Godiva had predated that by hundreds of years, having made her splash in 1040. As such, she wasn't emblematic of the Tudor era, so why she was at Kings Castle in the first place isn't clear. Perhaps the fact that both she and the Tudor dynasty were English was enough for then proprietor Nathan "Nate" S. Jacobson to connect the two.
Minimizing Her Effect
When Kings Castle came under new ownership, that of Jud D. McIntosh, in 1973, he sought to change the resort's image to a family-friendly one and, thus, had Lady Godiva clothed.
Even clad in apparel, the English noblewoman only remained there two more years.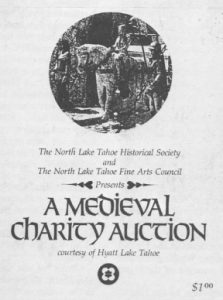 Doesn't Fit In
After The Hyatt Corp. acquired Kings Castle in 1975 and renamed it Hyatt Lake Tahoe, it eradicated all signs of the royalty motif, transforming the facilities back to one that blended with the natural surroundings; their first iteration The Sierra Tahoe (1964 to 1966) had been designed with that very intent.
Only 1.5 months after assuming control of the hotel-casino, Hyatt auctioned off all of the medieval décor, including Lady Godiva, and donated the proceeds to the North Lake Tahoe Historical Society. As a result, Lady Godiva's new home became Bill Anderson's Ponderosa Ranch, a nearby theme park based on the television show Bonanza (it closed in 2004).
Does anyone know where the Lady Godiva from Kings Castle is today?
* In 1040, Lady Godiva implored her husband Leofric, the Lord of Coventry, to reduce or eliminate the taxes he'd levied recently, as she found them oppressive. Knowing she was modest, he agreed to lift them if she rode her horse naked through the town's streets. To his surprise, she did just that, after getting the local citizens to agree to not watch her carry out the challenge.