Listen to this blog post here
This is the second of a series of posts related to and leading up to the release on Dec. 6 of A Bold Gamble at Lake Tahoe: Crime and Corruption in a Casino's Evolution by this author. The nonfiction book chronicles the often-unbelievable, conflict-filled early history of the Incline Village, Nevada-based hotel-casino that today is the Hyatt Regency Lake Tahoe Resort, Spa and Casino.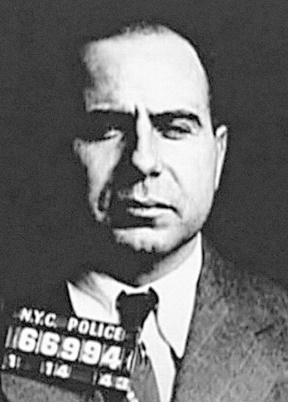 1975
When a notorious American stayed at the Hyatt Lake Tahoe, it was three months after Hyatt Hotels Corp. acquired the resort and a time when Nevada wanted to portray a clean gambling industry.
The infamous guest was Carmine "Lilo/The Cigar" Galante, boss of the Brooklyn, New York-based Bonanno crime family and, according to the U.S. Justice Department, then one of the country's highest-ranked organized crime figures.
Mob Troubles
The 63 year old was on parole but allowed to travel. He'd been released from the U.S. Penitentiary, Lewisburg* in Pennsylvania 1.8 years earlier after serving 14 years of a 20-year sentence for a narcotics conspiracy conviction. Indeed, Galante had been responsible for trafficking heroin between the Bonanno family and the Giuseppe "Joe" Cotroni crime family in Montreal, Québec, Canada. 
Also at the time of his 1975 Lake Tahoe trip, Galante was "involved in a power struggle with Carlo Gambino, a New York crime boss, for the position of capo cli tutti capo — boss of all bosses in organized crime's national high commission," reported the Reno Evening Gazette (Aug. 18, 1975). As such, some law enforcement officials believed the true purpose of his West Coast excursion was to hold a summit with other underworld members.
Kept in Sight
Despite his criminal involvement, status and history, Nevada's gambling regulators couldn't kick Galante out of the Hyatt's casino. Only those listed in their Black Book could be; it contained the names of personas non gratas in the state's gambling houses.
Galante, however, could be watched, and watched he was. The Federal Bureau of Investigation, the Washoe County Sheriff's Organized Crime Unit and others tracked his every move.
"Galante's arrival in Nevada comes at a time when state and casino officials are stressing the crime-free aspects of Nevada gaming to members of the National Gambling Commission," the Nevada State Journal (NSJ) reported.
The capo arrived in The Silver State looking like a "paunchy, retired janitor," wearing a blue T-shirt, brown windbreaker and straw porkpie hat and "twisting, chewing and puffing on the legendary cigar which danced between his teeth below the gold wire-rimmed glasses which stayed halfway down his nose," described the Nevada State Journal (Aug. 19, 1975).
After Galante checked in to the Hyatt Lake Tahoe in Incline Village, Tom Benham of the local organized crime unit, informed him that he and his activities would be scrutinized during his time in Nevada. "We want you to leave here as healthy as when you arrived," Benham told him, according to the NSJ. Galante responded, "Thank you. I appreciate that very much."
Benign Agenda
During his stay, from Monday to Saturday, Aug. 18 to 23, Galante, along with his three female traveling companions aged 35, 45 and 50, merely acted the tourist. The group went to the usual Lake Tahoe attractions, including the Ponderosa Ranch, the Incline Village Golf Course and the various casinos. They ate at several area restaurants and attended a couple of dinner shows.
Before Lake Tahoe
To start their adventure, the quartet had flown from New York to Los Angeles. There rented a car, a white Ford LTD, which then they'd driven to San Francisco. After staying the night there, at the Hyatt Regency Hotel, they'd made their way to Truckee, where they'd slept at the Gateway Motel. The next day, they'd continued on to Nevada and the Hyatt Lake Tahoe.
* While at Lewisburg, Galante was housed in cell block G, or "Mafia Row," with James "Jimmy" Hoffa; Anthony "Tony Pro" Provenzano, member of New York's Genovese crime family; and Vincent "Vinnie The Fat Man" Teresa, a former high figure in New Jersey's Raymond Patriarca crime family.