Listen to this blog post here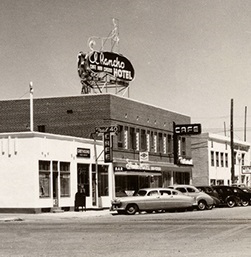 1953-1955
In fall 1953, John "Fat Jack" Galloway was playing the card game, 21, at Leo Quilici's hotel-casino, the El Rancho Hotel, in Wells, Nevada.
Fat Jack himself, in his early 40s, was the operator of a gambling saloon located 8 miles west of Fallon. Beforehand, he'd been employed as a dealer at Lake Tahoe and Las Vegas clubs and had served prison time on bunco and vagrancy charges in the early 1940s in California.
Leo's son, Joe Quilici, 27, the El Rancho's manager and a city councilman, was dealing to Fat Jack. Thinking Fat Jack was a tourist, Joe cheated him out of about $4,200 ($37,000 today); Joe'd often peek at the top card in the deck and deal the second card rather than the first.
After Fat Jack left the casino, another El Rancho dealer told Joe that Fat Jack was an undercover agent for the Nevada Tax Commission, then the state's gambling regulating agency.
Joe ran across the street to the Bulls Head Bar, and told his father, the proprietor, he'd been caught cheating. (Joe had been discovered dealing dishonestly previously, and his gambling license had been suspended but then reinstated. The same had happened to Leo for having cheated customers with a plugged slot machine that couldn't pay out jackpots.)
The day after Fat Jack and Joe's gaming encounter, Dudley Kline, 61, allegedly paid Leo a visit at his saloon. Dudley was second in charge of the Nevada Tax Commission's gambling division that, since 1948, had been tasked with keeping games of chance in the state honest. Dudley allegedly told Leo that Joe had swindled a tax commission agent and that he, Dudley, might be able to help. Then he left.
Fat Jack then paid a visit to Leo several hours later. After deceptively introducing himself as a tax commission agent, Fat Jack reiterated that the problem of Joe cheating him could go away for $3,000 ($27,000 today), an amount he said he had to split with another person, presumably Dudley. Leo paid him the full amount.
In February 1954, after an investigation in which the Quilicis were the only witnesses, Dudley and Fat Jack were arrested. They were bound over for trial and released on $5,000 bond each.
Elko County District Attorney Grant W. Sawyer, who'd learned of the incident from an anonymous tipster, asserted that Dudley was an accessory before the fact to extortion but charged him as a principal because he supposedly "set the stage" for Fat Jack telling Leo that he, Fat Jack, was a commission member (Reno Evening Gazette, Feb. 11, 1954). Sawyer similarly charged Fat Jack.
Despite Dudley denying knowledge of any blackmail attempt, Robbins Cahill, the tax commission's secretary, fired him. 
"The circumstances of this case dictate that we continue to dig. We are going to turn over every spade full around and weigh it carefully," Cahill said (Reno Evening Gazette, Feb. 11, 1954).
Without a choice, Leo Quilici closed down the gambling at his two properties — standard procedure when cheating has been discovered.
Pursuit of (In)justice
Sawyer's charges against Dudley were dismissed twice. Two different judges, first in district then in justice court, granted Dudley a permanent writ of habeas corpus based on insufficient evidence to warrant holding him for trial.
In a third attempt to convict Dudley, Sawyer, in early 1955, filed an appeal with the Nevada Supreme Court, challenging the writ.
"I have searched my conscience and I honestly believe there is evidence to hold [Dudley] Kline for trial," he said, denying he was attempting to persecute him (Reno Evening Gazette, Aug. 13, 1954).
At that point, Fat Jack was awaiting trial pending the outcome of Sawyer's appeal on Dudley's case. He closed his gaming operation.
The higher court upheld the original writ, saying "there was no error in the conclusion of the district court that Kline had been held to answer without reasonable or probable cause or in the order discharging him from custody by reason thereof" (Nevada State Journal, April 14, 1955). This ended the legal ordeal for Dudley. Despite the outcome, though, he wasn't reinstated on the tax commission.
Within the week, Sawyer dismissed the extortion charges against Fat Jack, believing the state wouldn't be able to adequately prove a guilty verdict.
Was Dudley guilty or, perhaps, framed by Fat Jack and the Quilicis?