Listen to this blog post here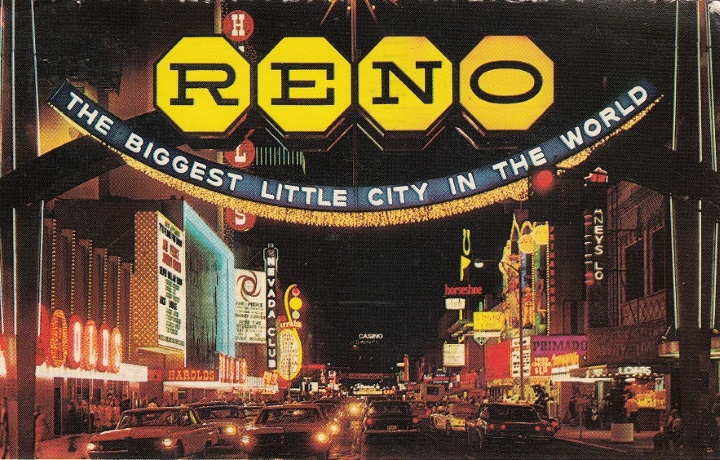 1926-present
By 1963, major casino owners in Reno, Nevada thought the downtown fixture was outdated and ugly compared to their modern buildings on Virginia Street. They even offered to pay for it and its maintenance for five years.
That was the Reno Arch, a famous city landmark.
They probably had a point. The arch originally had been installed in 1926 to celebrate completion of Highway 40 and advertise the associated exposition slated for the next year. In fact, the sign had read: "Reno / Nevada's Transcontinental Highways Exposition June 29–Aug 1, 1927." It spanned Virginia Street at Commercial Row.
The city, however, had changed the verbiage in 1929 to: "Reno / The Biggest Little City in the World."
Some of the initial slogans in the running were:
• Reno, The West's Highest Assay
• In Progressive Reno, Loiter, Linger, Locate
• Reno, Biggest Little Town On Earth
• Reno, A City You'll Like
• Reno, The Best Out West
• East Or West, Reno Serves Best
Five years later, after numerous complaints about the new tagline, primarily by local organizations (some residents even wanted the entire sign taken down), the city had removed it, having left simply the word "RENO" in neon green letters. This change, too, upset some Renoites. Ultimately, in 1935, Reno had returned the slogan.
The new 1963 arch spotlighted the same wording but featured a mod style and colors — yellow, white and blue. A revolving star, encircled with lights, topped it. Creation of the sign cost Reno's gambling consortium — Harolds Club, Club Primadonna, Nevada Club, Colony Club, Horseshoe and Poor Pete's — about $100,000 (roughly $777,450 today).
Today's arch, the third version, debuted in 1989, having undergone a makeover.