Listen to this blog post here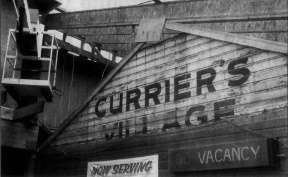 1935-1939
The reach of Reno, Nevada's Mobsters into gambling during their heyday allegedly extended to a small Oregon hideaway for California's rich and famous: Currier's Village.
William "Bill/Curly" Graham and James "Jim/Cinch" McKay are said to have operated the gaming at the secluded resort with "their friends from Los Angeles," according to Al Moe in The Roots of Reno, perhaps mobsters there such as Benjamin "Bugsy" Siegel. (Despite trying, this writer couldn't determine the specific games they ran there.)
In his 2017 article about Currier's Village, writer Finn J.D. John wrote that, according to rumor, the resort's developer and owner Roy G. Currier "had some connections in organized crime, which were helping him out with advice and maybe financial assistance with his gambling and fine-dining operations."
Currier, however, didn't need financial backing; he was a multi-millionaire, having made his fortune selling pills for various ailments under the Currier's brand. He likely needed an experienced casino manager, gaming workers and perhaps an enforcer.
The extent of McKay and Graham's involvement in the Lakeside, Ore. casino isn't clear, but assuredly they were getting a portion, if not all, of the gaming-generated revenue there.
Any gambling that took place at Currier's Village at the time was prohibited, as the only legal betting activity in The Beaver State then was parimutuel wagering on horse (legalized in 1931) and greyhound (1933) races.
"The casino action wasn't very surreptitious at all. It didn't have to be," John wrote. "The whole place was on private property — Currier's very own 160-acre townsite. No cops, no district attorneys, and of course no liquor-control agents were allowed in Currier's Village."
Various Attractions
Along with gambling, the summer resort offered fine dining (entrées included fillet mignon with mushroom sauce; roast young tom turkey, walnut dressing and cranberry sauce; and special cut New York sirloin steak), dancing and live entertainment (The Ink Spots, Sons of the Pioneers and more) in the 40-by-90 foot Pier Café situated at the end of the Tenmile Lake pier. Outdoor opportunities included fishing, horseback riding, swimming, boating and water skiing.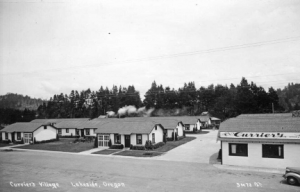 Currier's Village drew the likes of Bing Crosby, Bob Hope, Lily Pons, Charles Laughton, Sydney Greenstreet and Roy Rogers, who paid $250 a week (about $4,700 today) to stay there, in the 36 luxurious cabins, electrified and heated by steam from nearby hot springs, with garages and designated parking spaces.  
Possible End of the Run
In 1939, Graham and McKay were convicted of mail fraud and sentenced to serve years in the U.S. Penitentiary Leavenworth. Coincidentally, that same year, Currier sold Currier's Village to a San Diegan named Edward Jackson. That year most likely marked the end of the partnership among the three men related to gambling at Currier's Village.