Listen to this blog post here
Dear Subscribers,
First, I'd like to thank you all for your readership and support. It means a lot.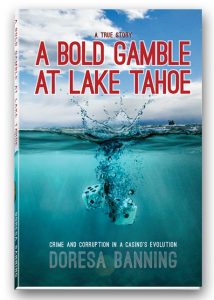 On another note, the gambling history book, A Bold Gamble at Lake Tahoe: Crime and Corruption in a Casino's Evolution, is finally here! I offer you the first chapter below.
The nonfiction book now is available for purchase as a paperback ($14.95) and an e-book ($7.99) in both EPUB and Kindle formats. To buy, click here.
Here's a glimpse again at the story:
Their new, nature-inspired hotel stood amid a Northern Nevada township of more trees than people. The raw beauty of that lakeside spot on the cusp of development portended enormous getaway potential. The owners, legitimate businessmen, strove to add a casino, but no one would finance it.
Then Jimmy Hoffa's Teamsters pension fund wormed its way in. The locals objected to a gambling house in their neighborhood. Shady characters usurped the enterprise. Lives were threatened. State agents witnessed an employed stickman using misspot dice. Felonious crimes occurred on the property, allegedly. Lawsuits by and against one owner crept into the double digits. And those events were just a handful of a mounting pile of troubles.
This is the story of a gambling business' journey from concept to stability during the 1960s and '70s, a time when the industry was Mob infiltrated, often volatile, theft and cheating prone, and unpredictably policed.
That once fledgling inn now is the Hyatt Regency Lake Tahoe Resort, Spa and Casino.
I wish you all a fantastic winter holiday season and new year.
Take care,
Doresa
——————————————————————————————————————————————
CHAPTER 1: 
DIP INTO THE UNDERWORLD
1964

With Jimmy Hoffa and the fund's co-trustees waiting inside their headquarters to meet him and seal the deal, California businessman Bill Swigert told the broker his company now was refusing the proffered loan.
"You are finished with the Teamsters, and you better get out of Chicago," Norman Tyrone said while dragging a thumb across his own throat.[i]
"We got the hell out of there," said Swigert, referring to himself and his attorney.[ii]
Desperation for financing is what had spurred William "Bill" G. Swigert, Jr. to the Windy City that autumn. He and his two partners — collectively Pacific Bridge Company & Associates (PBC&A) — recently had built and opened The Sierra Tahoe, the premier hotel in a new, sparsely inhabited, developing community on the north shore of Lake Tahoe[1] in Nevada, U.S.A. Four months later, they still needed money to cover the construction and other incurred expenses and to fund the project's next phase, adding a casino and more guestrooms.
A few months before, Swigert had received a telephone call from Norman B. Tyrone, who'd introduced himself as a financier and had asserted he could arrange a Teamsters Pension Fund (TPF) loan for PBC&A for The Sierra Tahoe.
By that time, the TPF had underwritten more than $20 million in loans ($163 million)[2] in Nevada, for hotel-casinos, including the Riverside in Reno, and the Dunes and the Desert Inn in Las Vegas, as well as other facilities.
The TPF — formally the Central States, Southeast, Southwest Areas Pension Fund of the International Brotherhood of Teamsters — collected and managed employer contributions for retirement, disability and death benefits for its unionized truck drivers and warehouse workers in about 20 states.
One of the fund's eight trustees was James "Jimmy" R. Hoffa, who, as the Teamsters union president, allegedly had ordered bombings, arsons, beatings and murders and had aligned himself with Mobsters nationwide.
Tyrone had arranged for PBC&A to receive $2.6 million ($21.2 million) in financing from the TPF. The loan was PBC&A's last resort, as Swigert had exhausted all other potential options over the prior 2.5 years. Swigert and his counsel, Frank E. Farella, had flown to Chicago to finalize the transaction.
On Friday, September 25, the two men convened with Tyrone in the new riverfront, 36-story, downtown Executive House hotel, about seven blocks from the TPF's building. Tall but portly, the man wore expensive apparel.
"Tyrone just looked dishonest," Swigert said. "He looked like a big, tall gangster, like Al Capone[3] on steroids."
In Tyrone's suite, piles of papers lay strewn across the furniture. The loan liaison darted around and made and answered several calls supposedly to and from Elliott Roosevelt, who was said to be waiting in the TPF's boardroom to meet Tyrone and his loan applicants from the West Coast. Tyrone had indicated this son of Franklin D. and Eleanor Roosevelt, former United States president and first lady, was his business partner.
"God, it was almost like a show," Swigert said about Tyrone's behavior.[iii]
Swigert and Farella reviewed the loan papers. As a condition of the financing, PBC&A previously had agreed to pay 1 point, or 1 percent of the loan amount, which equaled $26,000 ($212,000), to the TPF for appraisals, estimates and other costs. It also had agreed to pay 2 points, which was $52,000 ($424,000), to Tyrone as commission for brokering the deal.
However, among the documents, Swigert spotted a letter that committed PBC&A to giving an additional $208,000 ($1.7 million), or 8 points, as a subsidiary loan to the International Mortgage and Statistical Corporation, supposedly Tyrone and Roosevelt's company in the Bahamas.
"What's this? What's it all about?" Farella asked.
"To Swigert and Farella … the Bahamas loan had an imme-diate and unmistakable stench," reported the Oakland Tribune.
The additional $208,000 meant PBC&A would pay 11 versus 3 points on the loan. Tyrone defended it as "a hell of a good deal"[iv] and said all TPF financings were transacted at a 10 point-minimum.[4]
Frank Sheeran, who once had been Hoffa's right-hand man, explained to author Charles Brandt how the TPF loans worked: "Jimmy's cut was to get a finder's fee off the books. He took points under the table for approving the loans. Mob bosses would bring customers. The bosses would charge the customers 10 percent of the loan and split that percentage with Jimmy."[v]
If this were to have been the case with the loan to PBC&A, then $104,000 of that $208,000 would have gone to Hoffa, the rest to Tyrone. (Tyrone wasn't a Mob boss, but like one, he connected loan candidates and the TPF.)
When Swigert asked him what his corporation did, Tyrone explained that it was somewhat of a startup, aiming to computerize global information about potential loan sources. Farella requested the business' latest financial reports, but Tyrone said they weren't and wouldn't be available. He admitted that no paper trail documenting the $208,000 disbursement would exist.
"We said that if this was a legitimate loan [to Tyrone's firm], then there was a legitimate business reason for doing it," Swigert recalled. "Otherwise, this clearly would be immoral and illegal."[vi]
About then, it was time for Swigert and Farella to rendezvous with the TPF's trustees at their 29 E. Madison Street offices. Swigert told Tyrone he and Farella would catch up with him there with a final decision on the loan. First, Swigert had to discuss with his partners the surprise term just thrust upon PBC&A, by phone. He did so.
"It didn't take us long to decide we wanted no part of any deal like that," Swigert said.[vii]
—————————-
[1] Often called the "Jewel of the Sierra" or "Big Blue," Lake Tahoe straddles the California-Nevada border. With a surface area of 191 square miles, it's North America's largest alpine lake.
[2] With most of the dated dollar figures throughout this book, a corresponding current value is provided in parentheses immediately after. These amounts are based on 2019 United States government consumer price index data and adjusted for inflation.
[3] Alphonse "Scarface" Capone was the American Mobster who allegedly murdered his way to becoming Chicago's organized crime boss during the U.S.' Prohibition Era.
[4] That was true, but it was a high rate, as traditional lenders typically charged borrowers 1 to 4 origination points.
CHAPTER 1: DIP INTO THE UNDERWORLD
[i] Nevada State Journal, "Teamster Fund Trial Starts on Tahoe Loan," Jan. 26, 1971.
[ii] Interview of William G. Swigert, Jr., June 24, 2010.
[iii] Oakland Tribune, "$200,000 Fee on Loan for Teamsters," June 5, 1970.
[iv] Ibid.
[v] Brandt, Charles. I Heard You Paint Houses: Frank "The Irishman" Sheeran & Closing the Case on Jimmy Hoffa, Hanover, N.H.: Steerforth Press, 2005. Ebook.
[vi] Interview of William G. Swigert, Jr., June 24, 2010.
[vii] Oakland Tribune, "$200,000 Fee on Loan for Teamsters," June 5, 1970.