Listen to this blog post here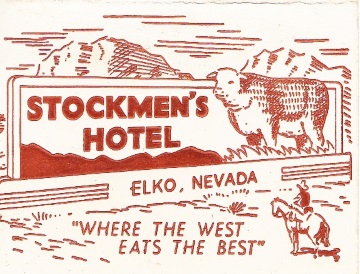 1954
Late on a Saturday night in 1954, during the peak of business, an unemployed, 27-year-old railroad hand entered the Stockmen's Hotel in Elko, Nevada where townspeople, miners, ranchers and tourists congregated to socialize, drink and gamble.
Silvus Armandus approached the casino cashier's cage and demanded: "Hand over your money and don't make a sound."
The pit boss, D.E. Pierce, asked him to repeat what he'd said, and he did, gesturing with one of his hands in his pocket that he had a gun. Pierce, who thought Armandus was joking, began walking away. Armandus yelled, "I'll kill the [expletive*]," while shooting at him twice, both bullets missing Pierce.
Another casino employee, Jack Brady, tackled the scoundrel to the ground and while wrestling with him, the gun fired two more times, injuring Brady in the stomach. Other employees joined the fracas, creating a body pile. When all the staff members stood, Armandus remained on the floor, unconscious.
During the melee, most of the casino's 100 patrons just kept gambling.
Armandus was jailed for assault with a deadly weapon. When he subsequently appeared in court, the revised charge was attempted robbery. He pled guilty and said he couldn't remember the incident at all. The judge sentenced him to 2½ to 5 years in the Nevada State Prison.
——————————
* The expletive wasn't printed in the original newspaper source