Listen to this blog post here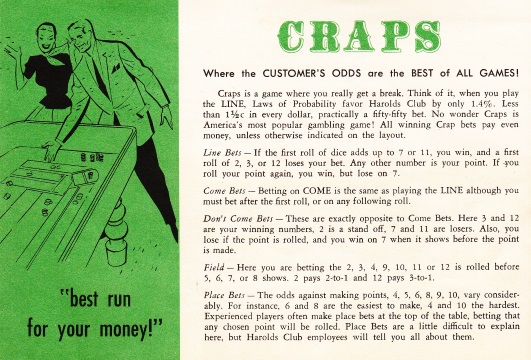 1946
A tastefully attired gent in his 40s sat at a craps table around 7 p.m. on a March Tuesday and began to wager with bundles of $1,000 ($12,000 today). After betting Harolds Club's house limit for a while, which yielded $7,500 a point on a win, management waived it. The game lasted 36 hours, during which the mystery man drank coffee but never ate. His playing drew the attention and awe of other guests of this Reno, Nevada casino. Who was this man?
He was a "gambling fool — a gentleman, win, lose or draw — who takes it like a man," described a Harolds representative (Nevada State Journal, March 16, 1946).
Rumors identified the craps marathoner as R.L. Carnahan from Wichita, Kansas and Kansas City, Missouri, as a person with such a name was registered at Reno's Riverside Hotel. It's unknown, though, if that was his real or fake identity.
At one point, Carnahan won $76,000 on a hand and on another, lost $100,000. At 7 a.m. Thursday, after just winning $150,000, Carnahan wanted to stop. He was down $360,000 ($4.4 million today).
He proposed to Harold Smith, a club co-owner known to participate in high-stakes gambling, a final, $500,000 bet. Each would roll a single die; whoever landed a higher number would win. If Carnahan lost, he'd pay $500,000. If he won, he'd remit $220,000, the difference between $360,000 and $140,000, the latter being $500,000 minus what he owed. Smith agreed.
Both men tossed the ivories, each showing a snake eye. Smith took his turn and got a deuce. Carnahan followed and landed a trey, or three spot, winning the wager but owing $220,000 ($2.7 million today). The men shook hands, had a drink together and parted ways.
While the gambling house's executives wouldn't address the events, give the man's name or specify if he won or lost and by what amount, they offered this: "The man from Kansas City is a man to be respected" (Nevada State Journal, March 16, 1946).