Listen to this blog post here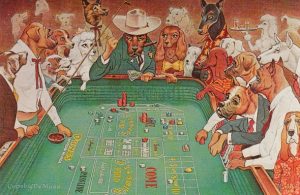 2017
Join me for a super fun, interactive class — Casinos, Characters and Crimes — about gaming during Nevada's early years (1861 through 1931).
We'll conduct a mock trial (a minor v. a gambling saloon), create a timeline, hold a mobster lineup and even do some gambling, Native American style. . .
We'll discuss major events, people, gaming houses and stories of the period. Among others, topics include the reign of the George Wingfield combine, the emergence of the original Sin City, the fate of cheaters/hustlers, corruption of various officials and the Clara Bow scandal at Lake Tahoe. 
Participants will gain a robust picture of what gambling was like from Commercial Row in the north to Block 16 in the south and understand the related themes that prevailed. 
The class is scheduled on August 31.
For details and to register, click here.