Listen to this blog post here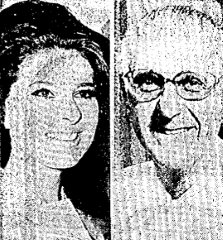 1969-1970
Casino magnate, William "Bill" F. Harrah, 58, married country artist, Bobbie Gentry, 27, in St. John's Presbyterian Church in Reno, Nevada on December 18, 1969 with only members of the wedding party present.
The union was Harrah's third (of seven), Gentry's first.
The marriage lasted four months, with the couple receiving a divorce decree on April 16, 1970.