Listen to this blog post here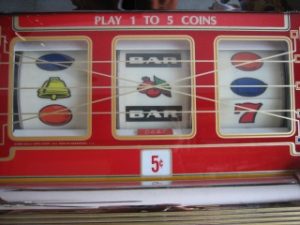 1956
She wouldn't budge. C. Johnson was playing a slot machine from a stool that was blocking the aisle in a downtown Reno, Nevada casino. When employees asked the Oakland, California resident to please shift a bit so others could pass, she adamantly refused. They offered to move the game to a spot with a wider berth; she said no. They called a fireman to the club, who informed her she was violating city fire regulations. She stayed put.
Eventually, she was taken to the city jail and booked on interfering with an officer and resisting arrest. She threatened that all those involved in her arrest would get fired and she'd sue the city.
Well, she failed to show in court for her arraignment, forfeiting her $75 bail ($670 today).
Photo from freeimages: by William Wynn