Listen to this blog post here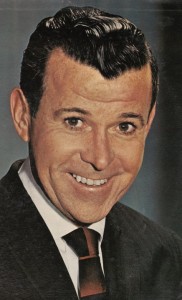 1951
The Irish tenor, Dennis Day, was about to begin a singing engagement at the downtown Riverside hotel-casino in Reno, Nevada in the summer of 1951. Day is known for his appearances on the Jack Benny comedy show and his own television show, A Day in the Life of Dennis Day.
To promote his performances, he participated in a photo shoot for local media. Dashing in a suit and tie, he creatively posed for the cameras, sometimes with beautiful women, others without, but always beside a red wheelbarrow allegedly filled with 25,000 silver dollars, said to be his salary for the two-week gig.
About 30 minutes into the shoot, Day suddenly upended the wheelbarrow and poured its contents into the hotel's swimming pool. As the silver dollars cascaded through the green water to the bottom, casino manager Myrton "Mert" Wertheimer and hotel manager Arthur Allen sprinted over to Day.  
"What do you think you're fooling with—hay?" yelled an outraged Wertheimer.
"It's supposed to be my money. I've been kept waiting an hour for this deal, and I have an appointment with a doctor. My throat is sore," Day said then quickly retreated.
Within minutes, Wertheimer had people diving for and recovering the coins from the pool for fear they'd rust.
"Proof that Day's action wasn't in the script was furnished by the photographers themselves, who were so flabbergasted, they didn't catch a picture of the silver sliding into the briny," wrote reporter John Burns (Nevada State Journal, July 18, 1951).
It wasn't until much later that Wertheimer and Allen saw the humor in Day's stunt. Though they probably wanted to, they didn't cancel their contract with Day, who likely received his pay in the form of a check.