Listen to this blog post here
1936-1950s
The Palace Club introduced a new casino game to Nevada's "Biggest Little City" on May 1, 1936. Renoites quickly discovered it, and its popularity soared, leading to a solid run over about a decade.
The emergence of this enticing gambling offering was "a major event in the development of Reno's gaming," Raymond Sawyer wrote in Reno, Where the Gamblers Go!"
It was race horse keno.
The game essentially was keno or Chinese lottery but with horse names instead of numbers or Chinese characters. The equine monikers — Shot Gun, Red Fox, Mixed Party, Wedding Ring, Rustic Lady and Fussbudget, for example — were entertaining.
To start, the Palace Club conducted the game every 30 minutes versus the then typical twice daily keno schedule. The announcing of the events was exciting, like actual horse races at a track. According to Sawyer, they went something like this:
"All right folks, they're at the post! And they're off on race number 57; the first one out is Jockey Number 16 on Main Street right down the main drag. A hell of a race and a hell of a bunch of horses! Next is Jockey Number 60 on Kay Dugan, that old Irish gal again. Next is Number 50 on Bally Boy, that bloody English horse. And next out is Number 8, on Ask Kate. I did — and nothing happened!"
How It Got to Reno
Palace Club pit boss, Frances Lyden, had seen race horse keno played in Montana and proposed to his boss, casino owner John Petricciani, that they debut it in Reno. He agreed.  
Lyden telephoned Warren Nelson, 23, whom he'd seen run the game in Great Falls, and asked if he'd be willing to start up and operate race horse keno at the Palace Club with a few experienced men of his choosing.
In late April, Nelson, arrived, with a crew — Jim Brady, Clyde Bittner and Dick Trinastich — and immediately got to work preparing and then launched the game.
At first, the Place Club generated about $200 to $300 (about $3,700 to $5,600 today) per day from race horse keno, selling each ticket for $0.10 ($1.80).
And They're Off …
In its newspaper advertisements, the Palace Club described race horse keno as "the game that has taken Reno by storm." The claim was true.
"It didn't take long, not more than a week or so, for the new game to catch on," Sawyer wrote.
Over time, at the Palace Club, Nelson began holding the "races" more often, first changing it to every half hour, then every 20 minutes and finally, every 10.
Eventually, $0.35 tickets replaced the $0.10 ones as the most common, $0.35 ($6.50) ones became most popular. Some players bought $0.50 or $1 tickets ($9.40 or $18.80).
"Soon we were writing $1,500 to $2,000 [$28,000 to $37,000] a day, and by the end of summer we were writing $5,000 [$93,000] a day," Nelson said in Always Bet on the Butcher.
Competition Springs Up
Also starting in 1936, and over the ensuing years, other gambling places got in on the action, offering race horse keno themselves. Those gambling houses were the Wine House, Block N and Harolds Club in Reno; the Index Club in Winnemucca; Jill and Eddie's in Fallon; and the Nevada Club in Stateline, to name a few.
When the Bank Club, the Palace Club's nemesis, followed suit, the latter raised its game win maximum to $5,000 from $2,000. Later, Reno's Frontier Club debuted its game with a $25,000 limit ($400,000), and that drew even more players.
In Southern Nevada, the first club received a gambling license for race horse keno in late 1939. There, the Las Vegas Club and the Boulder Club adopted the game early on.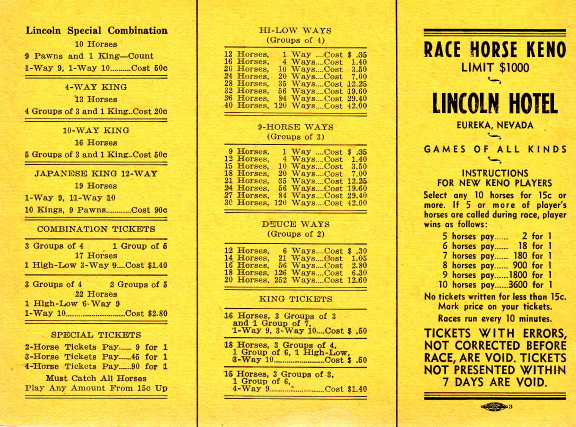 Retiring the Game
Race horse keno in Nevada began fading out in the late 1940s and early 1950s.
——————————