Listen to this blog post here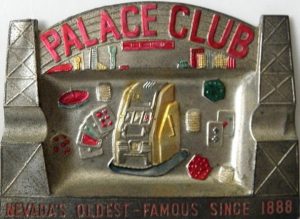 1945-1946
Alfred E. Cushman entered the Palace Club, in uniform, shortly after 5 p.m. on Sunday, November 11, 1945. Prior to that, the recently discharged U.S. Army veteran participated in the Armistice Day parade in Northern Nevada. After the procession, he drank eight to 10 beers then shared three or four quarts of whiskey with five other people.
Violence Begets Injuries
An altercation took place inside the casino between Cushman and the bouncer, Frank Richardson. It ended with Richardson tossing Cushman out the back door into Douglas Alley and then allegedly kicking him several times when he tried to get up.
At the behest of Richardson, Reno police officers arrested Cushman and charged him with disturbing the peace. He was taken to Washoe General Hospital, where he received medical care for a scalp wound, fractured thumb, swollen eye, chest tenderness, and bruises and abrasions on his head, face and neck. The hospital bill, which he couldn't pay, was $1,000 (about $14,000 today).
He was released from policy custody on bail of $50 ($670 today), paid by local veterans many of whom rallied around Cushman then and in the ensuing months. Reno Attorneys Ernest Brown and Ralph Morgali, also former military service members, provided legal services pro bono to Cushman, who'd served four years during World War II in places such as the Philippines and Japan.
The Disparate Stories
At the trial, which began on November 17, Richardson, a Missoula, Montana man who'd been employed at the Palace Club for 11 months, testified that Cushman had instigated the trouble and had thrown the first blow.
He said he saw Cushman ask a pit boss for money "nastily" and when denied, harass the women in the cashier's cage, as reported by the Reno Evening Gazette (Nov. 17, 1945). He told Cushman to leave them alone and "take a walk for your own good," he recalled. Then Cushman went to grab money from a roulette table, so Richardson took him by the shoulder and instructed him to leave or risk a call to the military police. Cushman then hit Richardson in the face twice. "Then I knocked him down," Richardson said, "and he grabbed my legs." Richardson ejected Cushman from the club but didn't touch him in the alley.
Cushman, who'd pleaded not guilty, told his version of what happened, which was that Richardson had attacked and beaten him ruthlessly for no reason.
Cushman relayed that he went into the Palace Club to ask a faro dealer for money for a meal, as in the past a pit boss had given him $0.50 when he'd asked. The dealer directed him to a boss who then referred him to another. That pit boss told him to wait by the cashier's cage as he'd be right back. When Richardson instructed Cushman to leave the bosses alone, Cushman responded he just wanted a meal and was waiting for the man to return, he said.
Again, Richardson said to leave; Cushman reiterated he would wait. Richardson grabbed Cushman by the thumb and bent it backwards. Cushman then punched Richardson, and a scuffle ensued. Richardson hit Cushman in the neck, at which point the latter fell unconscious. He came to in the police car en route to the hospital. Cushman denied reaching for money on a game table or bothering anyone.
Police Judge Guy Watts found Cushman guilty of disturbing the peace and fined him $5 (about $70 today). The outcome demonstrated that city police officers were permitted to arrest and jail casino guests at the request of a bouncer.
I Will Not Go Quietly
Cushman took on the Palace Club. On November 23, he sued the club's owners — Archie Sneed, Elmer West, Ernest "Ernie" J. Primm and Joseph Hall — and Richardson. The veteran sought $15,000 in damages for having been "beat, bruised and battered — in [a] cruel, inhuman, shameful manner," in an assault that was "unprovoked, unnecessary and without just cause," read the complaint (Reno Evening Gazette, Nov. 24, 1945). It also noted Cushman hadn't been able to defend himself in the casino due to his weakened condition brought on from his war service, and from the assault he'd suffered "heart and nervous injuries that diminished his ability to earn a living.
The next year, in mid-March, the trial of Cushman v. Palace Club Inc. took place. It was "one of the most widely-watched civil actions in Reno's history," the Reno Evening Gazette reported (March 27, 1946).
Deemed Punishable
After much verbal sparring on both sides, the presiding judge, A.J. Maestretti, ruled. First, he said this about the incident: "In the history of Nevada there are few parallels of the brutality used by Richardson in his treatment of the plaintiff. He did to a human being what an ordinary man would not do to a dog" (Nevada State Journal, March 27, 1946).
He ordered the defendants, Richardson and the club owners, to jointly pay Cushman $10,000 in damages ($128,500 today).
He castigated both Richardson for his actions and the owners for "tolerating conditions which would allow such a situation to exist."
Not Quite Over
The five Palace Club men threatened to appeal the district court ruling unless Cushman accepted a smaller monetary settlement. Cushman refused.
The debtors filed a motion for a new trial, which if denied, meant an appeal could go straight to the Nevada Supreme Court.
Before the motion could be decided, however, both parties compromised. In court, on May 1, the Palace Club owners and Richardson handed $7,000 ($90,000 today) over to Cushman. That ended six months of litigation.