Listen to this blog post here
1938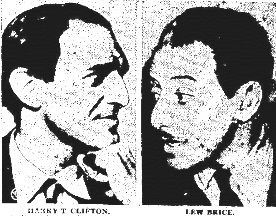 Esquire* Harry T. Clifton was a wealthy Englishman who owned racing stables and often visited Southern California.
During his visit there in April 1938, he gambled with Lew Brice and Tommy Guinan in a Long Beach hotel.
Brice was the brother of comedienne Fanny Brice, and a former stage dancer and comedian in his own right. Guinan was the brother of Mary Louis "Texas" Guinan, an exuberant actress and speakeasy owner during Prohibition.
The three and two other men began with a friendly game of bridge. They moved to poker, in which Clifton was "slightly conversant." During one 12-minute game, the Brit lost $150,000 (about $2.6 million today)!  He bet it all on two pair — kings and jacks. Brice won the pot with a winning hand of three of a kind — sevens.
To pay his debt, Clifton wrote two checks — one for $100,000 on a London bank account and the other for $50,000 on a New York one — which he gave Brice.
You Did What?
When the esquire relayed the story to his confidante, Violet Greener, the pastor of the Mystic Agabec temple in Hollywood, she suggested he'd been duped. She advised him to stop payment on the checks.
Clifton's attorney filed an injunction in court to do just that because:
• Brice had won the $150,000 by trickery
• Brice had misrepresented his ability to pay such an amount had he lost the game
• Clifton lacked the funds to cover the amount
The judge granted a temporary restraining order against Brice, which halted the checks from being processed.
Stud v. Draw Query
Meanwhile, investigators for the district attorney's office looked into the case, trying to determine whether the poker game was of the stud or draw** type. This mattered because the former was illegal but the latter was allowed in California.
Clifton, Brice and Guinan recounted different stories. Whereas Clifton noted the game was stud, the other two said it was draw. As for the amount in the big pot, the debtor maintained it was $150,000, Guinan said it was $100,000 of Clifton's money and Brice contended it was $40,000.
Later, it came to light that Brice owed a Danish actress/pianist $100,000 from a legal judgment four years earlier, perhaps his motive for allegedly swindling Clifton.
D.A. investigators sought two ladies who had celebrated with Brice and Guinan after the game to see if they could say what type of poker it had been. They also wanted to talk to the man who dealt the game, a George Lewis, but he apparently had gone to Texas supposedly to "look after some oil interests" (Nevada State Journal, May 5, 1938). It's unknown whether the investigators found and spoke to those individuals.
Unexpectedly, Brice suddenly agreed to waive all rights to the $150,000, perhaps fearing he could be prosecuted because they had in fact played stud, the illegal version. He said he'd leave it to Clifton to act honorably regarding payment.
To Hearth and Home
A few days after the big losing game, Clifton's wife Lillian, former Boston society lady, phoned the Los Angeles police from England and asked them to do whatever they could to help the man save his money until she got to California.
"Keep your eye on my husband and that ghost woman," she said, referring to Greener. "Put him in jail, if you have to" (The Morning Avalanche, May 10, 1938).
The police captain nicely told her they had no reason to detain her beloved.
In May, Clifton and his attorney requested the D.A. drop the matter, which he did.
Deciding it best to return to England, the esquire, unshaven and appearing disheveled, went to the airport. Greener accompanied him to see him off. Her daughter met them there and told Clifton she'd received two phone calls from a man who said, "We'll get you and everyone concerned in this matter" (Nevada State Journal, May 12, 1938).
Clifton told reporters he planned to rest for a while in New York before sailing back home. He kissed Greener and boarded the plane.
In a postscript, late that year, law enforcement officers in San Francisco arrested and jailed Brice on a vagrancy charge. The judge, however dismissed it with the warning that Fanny's sibling not get into card games in that city.
——————————–
* Historically, in the United Kingdom, esquire was a title of respect bestowed on men of higher social standing, above the rank of gentleman and below that of knight.
** In draw poker, all of the cards are dealt face down whereas in stud, some are dealt face up.