Listen to this blog post here
1955
When Nevada legislators legalized gambling in 1931, they didn't consider one significant caveat.
The omission came to light in January 1955 when an industrious Las Vegas casino patron was arrested for using Mexican 10 centavo coins in 25 cent slot machines — an act called slot slugging. Apparently, the coins fit perfectly.
The judge ruled the gambler hadn't broken any law, dismissed the case and suggested lawmakers revise the statute.
They did. In February 1955, Nevada Governor Charles Russell signed into law Assembly Bill 70, which read in part: "It shall be unlawful to use anything but a coin minted by the U.S. government in a slot machine. Violators may be punished by up to six months in jail and/or a $500 fine." It also forbade cheating casinos by using marked cards, loaded dice and other devices. Violation would be a misdemeanor.
That didn't stop people from trying to get away with it, though. At least three more incidents occurred that same year.
A 64-year-old Salt Lake City resident was caught and arrested in Nevada's rural town of Tonopah for feeding Mexican coins into a one-armed bandit. He'd had a roll of the currency hidden in his coat sleeve.
In May, two Californians were arrested for the same infraction in another rural place, Smith Valley.
In June, a 30-year-old woman from Texas also was busted in Reno.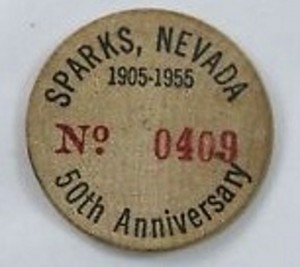 An Unexpected Tender
Later in 1955, casino operators began finding specific wooden nickels in their slot machines, which displeased them.
They were pieces that merchants in Sparks (city adjacent to Reno) had handed out as part of the Chamber of Commerce's celebration of the city's 50th anniversary; 10,000 had been distributed. They were redeemable for five cents' worth of merchandise or cash from the chamber.
Some people, though, were gambling with the promotional discs instead. Chamber officials apologized, noting there wasn't much else they could do.
"The old adage which says, 'Don't take in any wooden nickels' is being bandied all over town. The whole thing is pretty funny to everybody except the harried gambling club owners and to law enforcement agencies," a United Press reporter noted (Nevada State Journal, Sept. 20, 1955).