Listen to this blog post here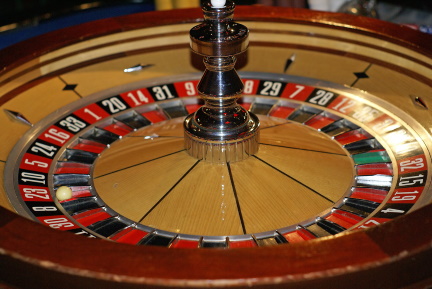 1937
After Florida legalized slot machines in 1935, casino operator Myrton "Mert" Wertheimer, 53, devised a way to also get craps and roulette, unlawful at the time, allowed under the new rule. (Previously, only dog and horse race betting were legal, as of 1931.)
Capitalizing on Wording
Wertheimer, who ran the gambling at the Royal Palm Club in Miami,* had coin devices attached to his roulette wheels and to his craps tables, at considerable expense it was reported. The only difference in playing those games versus traditional roulette and craps was that guests first had to insert a 50-cent piece to be issued a ball or dice. A single coin got a player one roulette wheel spin or a full craps turn, until they hit or missed.
"There is no connection whatsoever between the mechanics of the wheel and of the slot," or of the craps table and of the slot, The Courier-Journal reported (Jan. 13, 1937).
Before Wertheimer pursued his idea, he sought the advice of counsel, who advised him that games with such an add-on should be covered under the new slot machine law. That was due to the wording of the law's slot machines definition, specifically the included phrase, "and similar devices of this type."
Slot machines constituted "coin-operated skill machines (commonly referred to as pin-games, marble tables, and similar devices of this type which have a skill feature) which may or may not pay a reward for skillful operation or upon which operation, premiums may or may not be given for a high score or making certain combinations," according to Chapter 17257 of the 1935 Florida Laws, 1085.
Subsequently, Wertheimer procured the requisite licenses for five of these adapted games, at $500 apiece ($8,900 today), for a total of $2,500 ($44,500 today). They were pricier than licenses for regular slot machines, which cost $120 ($2,100 today) apiece.
Controversial Rollout
Wertheimer then debuted his coin slot device-rigged craps and roulette in the Royal Palm Club at the start of the 1937 winter tourist season in place of his usual slot machines. His doing so caused public officials, from the local police chief to the state attorney, to question the games' legality.
"The casual observer found little difference in what the management claimed was legal gambling and the old fashioned variety that generally brought the sheriff's men with their axes," noted The Daily Democrat (Jan. 13, 1937).
Florida Attorney General Cary D. Landis opined that since Wertheimer's machines had been licensed, they were considered lawful. Conversely, State Attorney G.A. Worley and State Comptroller J.M. Lee deemed them illegal, and the latter sought to get them banned officially through the court system. While that process went on, other South Florida establishments copied Wertheimer and started offering coin-operated roulette and craps games. Lee's efforts failed.
Subsequent Actions
All of the hoopla came to an abrupt end, though, when the state legislature, in 1937, repealed its 1935 slot machine law and banned those devices and all variations thereof.
"The vote for repeal in the legislature was overwhelming," David G. Shields wrote in a Florida Bar Journal article (September/October 2013). "The repeal statute … was authored and vigorously championed by a young representative and future Florida governor named LeRoy Collins, who called the two-year experience with slot machines 'a dose of moral poison.'"
Another 69 years would pass before slot machines again became legal in Florida, in 2004, this time by citizen vote. That referendum, however, only allowed slots in Broward and Miami-Dade counties, at certain parimutuel facilities there and with conditions.
Subsequently, in 2009, the state legislature would adopt an amendment that "ostensibly expands the possibility of slot machines to all pari-mutuels in South Florida and the rest of the state," added Shields.
—————————————————
* The Royal Palm Club, located in the Royal Palm Hotel, was owned by Miami City Councilman Arthur Childers.
Photo from freeimages.com: by Richard Styles