Listen to this blog post here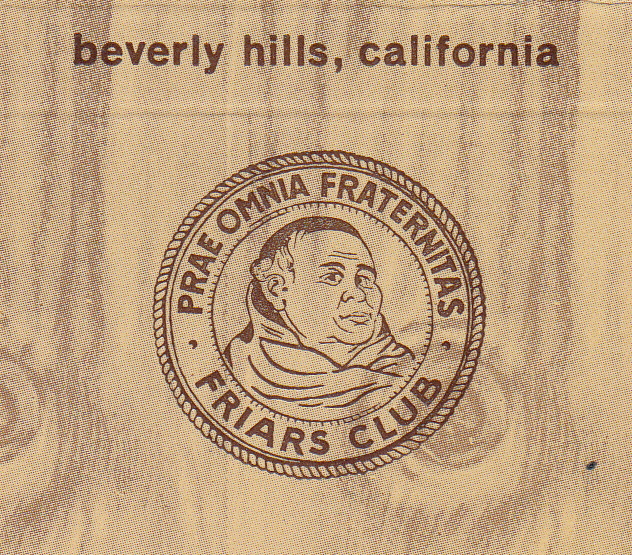 1962-1969
The Friars Club in Beverly Hills had been a favorite haunt of Hollywood celebrities and the area's wealthy since 1946, but something underhanded began happening there in the 1960s, unbeknownst to most of its 670 members.
Friendly Wagering
Card playing for money was a regular activity at the Southern California hangout. Games included poker, bridge, panguingue and klabberjass.* Gin rummy was the most popular and usually played for $0.02 or $0.03 cents a point, resulting in wins/losses of about $300 to $400 ($2,500 to $3,200 today).
The third floor of the $750,000 ($10 million today) club, at 9900 Santa Monica Blvd. was dedicated primarily to that activity. Stark with bright lights and hard surfaces, the expanse included a large card room for gin rummy and two smaller private spaces for poker.
"Inside it looks not unlike a Brinks counting house," described the Los Angeles Times (Sept. 9, 1967).
To access the gambling amenities, visitors entered a plain, mirrored door, at which a guard stood to ensure only members and their guests went through.
In contrast, the second floor showcased high ceilings, muted lighting, warm-hued carpeting, oak paneling and inviting colors: burnt gold, maroon and mauve.  A small bar and a large dining room with a long elaborate buffet comprised the main areas. (The first floor contained a parking area.)
To be a Friars Club member, people had to donate a large sum of money, around $1,500 (about $13,000 today), to charity and subsequently pay $40 (about $350 today) a month in dues.
Chicanery Comes to Light
In July 1967, five federal agents inspected the A listers' hotspot for four hours. This led to a roughly six-month federal grand jury investigation, for which 75 people were subpoenaed to testify. Some flat out refused, some pleaded the Fifth.
The inquiry uncovered a surreptitious card cheating scheme. Players' cards were spied on through holes cut in the ceiling, directly over the gambling tables, and covered with fake air vents. Based on everyone's cards, the observer in the attic, relayed to his partner in the game what moves to make.
This was done through an electronic device, worn by the person at the table, which emitted silent taps. The sender and receiver used their own system of coded signals. For instance, when the player wanted to know whether or not to put down his cards, he placed his empty palm flat on the table. A single tap by his accomplice meant don't knock, and no tap was a green light.
The perpetrators of the cheat had bilked Friars members this way for five years, between 1962 and 1967, the government alleged.
"Millionaires and celebrities, proud of their ability at gin rummy, [individually] lost up to $100,000 [$800,000 today] in games against opponents who knew what cards they were holding. Few even guessed they were being cheated," reported the Los Angeles Times (Sept. 9, 1967).
Among the victims were Tony Martin, singer; Harry Karl, shoe magnate and Debbie Reynolds' husband; Zeppo Marx, comedian and actor; Phil Silvers, comedic actor; and Theodore "Ted" Briskin, former Chicago camera manufacturer and, previously, Betty Hutton's husband. The government claimed that in less than one year, Friars Club members and guests' losses due to cheating totaled $400,000 ($3.3 million today).
Quartet to be Tried
Ultimately, the federal government charged five men with various infractions related to conspiring to swindle people, including interstate transportation to aid racketeering, interstate transportation of funds obtained by fraud and under-reporting income, and totaling 49 counts among them. The alleged criminals were:
Maurice "Maury" H. Friedman, 62, developer of the Frontier hotel-casino in Las Vegas
Warner T. Richardson, 62, Frontier casino manager
Johnny Rosselli, 62, Los Angeles-based Chicago Mobster
Manuel "Ricky" Jacobs, 48, Beverly Hills professional gambler, promoter of legalized panguingue and owner of a Santa Monica card club
Benjamin J. Teitelbaum, 53, wealthy art collector and co-owner of a studio equipment manufacturing company
All but Richardson were Friars Club members.
Genesis of the Cheating
Friedman concocted the scheme with Richardson and hired William Douglas (unindicted ), an electronics expert, to modify the ceiling and install the tapper. At some point, Friedman hired George Emerson Seach (the key witness in the trial) to install and maintain better equipment because the initial system was problematic. When Seach went to prison for an unrelated offense, Friedman replaced him with Miami-based electronics engineer, Edwin Gebhard (refused to testify before the grand jury).
Friedman invited Al Mathes, famed restaurateur (granted immunity for his testimony), and Rosselli, to join the swindle. Mathes did the same with Teitelbaum.
"As more conspirators were brought into the scheme, the prosecutor said, there was 'dissatisfaction over the division of the proceeds,'" reported the Los Angeles Times in its trial coverage (July 26, 1968).
Jacobs also cheated card players at the Friars Club but using a different method. During play, he and his accomplice conveyed to each other in conversation, using a version of alphabet code, what cards they needed.
After the five co-conspirators were indicted, Friedman gave Seach $25,000 ($186,000 today) and offered another $25,000 so he'd lie about Friedman's involvement in the Friars Club scandal. Richardson offered Seach $5,000 to say Richardson hadn't had anything to do with the scam. Teitelbaum threatened Seach, telling him, "He who digs a hole for others falls in himself." These actions came out in the trial.
"The defendants have approached witnesses in an attempt to have them withhold evidence," one of the prosecuting assistant U.S. attorneys said in his opening statement (Los Angeles Times, June 14, 1968).
The Verdict Is In
During the trial, which commenced June 12, 1968, Friedman admitted that he'd rigged games and cheated at the Friars Club but claimed he hadn't done it past 1962, the time when the five-year statute of limitations no longer applied. He said his motive hadn't been money. Rather, it had been to get back at Briskin, an excellent gin rummy player who regularly beat Friedman at it. As for having tried to pay off Seach, Friedman claimed Seach had shaken him down for the money.
Finally, after 68 witnesses and 200-plus exhibits, the nearly six month-long trial neared its end in January 1969. The jury of seven women and five men deliberated for 22 hours. They found all five defendants guilty. Subsequently, though, Richardson was acquitted.
Judge William P. Gray meted out these sentences, listed from most to least severe:
Friedman: 6 year prison term and $100,000 fine (months later, he'd get three more years for bribery in the Friars Club case)
Rosselli: 5 year prison term and $55,000 fine
Jacobs: 4 year prison term and $5,000 fine
Teitelbaum: 4 year prison term and $75,000 fine
Before the court, Gray told Friedman his "cynical cheating of people was cold and calculated." He added, "Even wealthy people are entitled to the protection of the laws" (Los Angeles Times, Feb. 4, 1969).
————————————
* Klabberjass, pronounced "klobber-yoss" and thus often simply called klob, is a Hungarian, combination poker and gin rummy card game.
Photo from pond5.com: Gin Rummy Hand