Listen to this blog post here
1931-1948
Gambling and cheating at gambling go together like, well, coins in a slot machine or cards in a shoe. Seemingly, they always will despite various efforts — violence, laws/rules, surveillance, firings, procedures, technology and more — to thwart chicanery.
"The casino gambling business is especially susceptible to fraudulent schemes," wrote Jerome Skolnick in House of Cards.
An Incongruous Trend
During the 17 years between 1931 and 1948, only four convictions on cheating charges were reported in the newspapers in Northern Nevada, and two of them were connected in a single case involving one club. This is despite cheating, by both players and operators/dealers, reportedly being rampant.
What It Means
One of the takeaways from this datum is that no amount or type of deterrents will stop people entirely from trying to cheat. "Operating a cheating and thieving gambling game,"* a gross misdemeanor, continued despite a substantial maximum punishment for it: a year in county jail plus a $1,000 fine (equivalent to about $17,000 today).
Also, the low conviction number suggests that prosecuting gambling cheating cases rarely were successful. Oftentimes, initial charges got reduced or dropped. Reduced charges often bore "little resemblance to the cheating one" and may have culminated in "a plea of guilty to disturbing the peace," a state gambling official later would tell the Nevada State Journal (Aug. 22, 1968).
Further, the statistic highlights the common trend of gaming house operators managing  swindlers themselves, in their own ways, with severe beatings, breaking of bones, even shootings. Of the four successfully tried cases in Washoe County, one incident was reported by a club owner and involved cheating the house. Another was reported by a customer, and the remaining set was discovered by Reno police deputies; those involved cheating the customers.
One reason for meting out "justice" in-house perhaps was the gaming club owners/operators not wanting to risk jeopardizing their gambling license. If a charge of cheating at their business was substantiated, they could have gotten their license revoked for a year and, consequently, been unable to legally offer any games of chance. Once the 12 months were over, they'd have to apply for a new license, with no guarantee of being granted one.
Cases in Point
Here are the four cheating cases that, atypically, were addressed in and resolved through the legal system.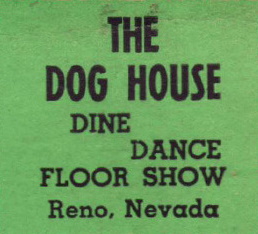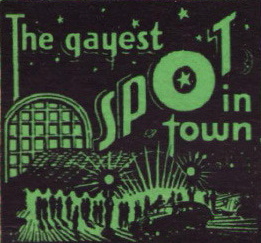 1) 1939: George "Shorty" M. King, 49, and 2) George "Shorty" L. Coppersmith, 53, gambling operators at The Dog House at 130 N. Center St. in Reno
The two Shorties had leased the gambling concessions at the Dog House for four years. Previously, they'd co-owned the Tavern and at different times from each other, had a percentage interest in the Capitol Bar.
On the night of July 4, 1939, after two Reno chief deputies witnessed both dealers manipulating the roulette wheel, they left, returned when the cabaret was less busy and raided it. They dissembled the wheel right then and there and called in an electrician. He "traced connections from electromagnets in the rim of the wheel to push buttons along the edge of the table and a series of dry batteries concealed in a large foot rail under the table," reported the Reno Evening Gazette (July 6, 1939).
One switch was hidden in the wooden backstop of the wheel's large money drawer. To activate it, one simply pushed on the drawer. The other button was concealed under a faux screw head on an edge railing of the wheel's table. Using those electric controls, the operators could make the steel-cored ball fall within certain groups of numbers on the wheel.
Further, the technician noted the batteries hidden in the metal rail had to have been put there within the previous two months because they had May 1940 on them and batteries generally were dated one year ahead.
King and Coppersmith were arrested and each assigned bail of $1,000 (about $18,000 today). The Dog House owners, Al Hoffman and Phil Curti, along with John Petricciani, then Reno's Palace Club owner/operator, paid King's bail in cash; Felix Turillas, then owner of Reno's Silver Slipper and Northern Club, paid Coppersmith's by check.
Why did Petricciani and Turillas chip in for the Shorties' bail?
Ultimately, King and Coppersmith both were fined $1,000, but King also received a six-month jail sentence because he was listed on the gambling license as the wheel's owner.
"The incident ended both men's gaming careers in Nevada," wrote author Dwayne Kling.
Hoffman and Curti claimed they hadn't known a crooked wheel was being used in their club.
"The two men operated the crap table and the roulette wheel," Hoffman said, referring to King and Coppersmith, "and the management got one-third of the profits. We didn't have anything to do with installing the machine, or its operation" (Nevada State Journal, July 6, 1939).
Despite Hoffman's denial, District Attorney Ernest Brown recommended that all gambling licenses pertaining to The Dog House be revoked, which required a unanimous vote by the county commissioners, but they didn't pursue it.
3) 1943: Alfred Leo Rooney, 38, a 21 dealer at an unnamed club in Reno
The establishment's owner reported to police that at his business, he'd caught Rooney, an employee, cheating while dealing 21. One of the game's players was Rooney's co-conspirator, who was interpreting the cards' marks and winning … frequently. "The police allege that there was to have been a division of winnings between Rooney and the confederate," the Reno Evening Gazette reported (Jan. 28, 1943). When police arrested Rooney, he claimed he was innocent.
Justice of the Peace Harry Dunseath held him over for trial and set his bail at $2,000 (about $30,000 today).
After deliberating less than an hour, the jury found Rooney guilty. Judge A.J. Maestretti sentenced him to six months in jail, no fine.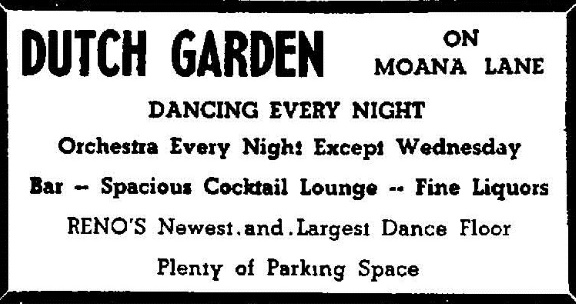 4) 1948: Clifford Sikes, 51, a 21 dealer at Dutch Garden** at 565 W. Moana Lane in Reno
Sikes had worked for 16 years as a dealer, at the Stag Inn, Cedars and Moana Springs Bar, before his stint at Dutch Garden.
On March 5, 1948, Sikes was dealing 21 to a table of men who all were friends, among them a Milton Brown. After Brown lost $25 (about $265 today) in about 15 minutes, another friend, Louis Ostanoski, who'd been watching the game, told Brown the cards were marked. To prove it, Ostanoski correctly guessed Brown's cards without seeing them.
Sikes overheard the conversation and said he'd switch decks. He put the deck he'd been using in a drawer and started to unwrap a new one. Brown stepped around the table, retrieved the previous deck, fanned it out on the table and pointed to the marks — indentations in the corners of the eight cards. Sikes grabbed what cards he could and tore them up, but Brown pocketed the rest. Dutch Garden owner Fred Stengler offered to refund Brown the $25, but he declined.
Subsequently, Brown filed a complaint with the police and turned over to them, as evidence, the marked cards he'd retrieved. Sikes was charged with operating a crooked card game using a marked deck.
Sikes paid and was freed on $1,000 bail (about $11,000 today). On the stand at his trial, he denied knowingly having dealt marked cards. Sikes implied that the customers had marked the cards not him. He said he'd torn up the cards only because Brown had been mixing the old deck with the new. Stengler testified on his behalf.
Despite the defense put forward, the jury found Sikes guilty, in fewer than 15 minutes. Maestretti sentenced him to a $1,000 fine and six months' jail time.
——————————
* When The Silver State legalized wide-open gambling in 1931, it addressed cheating in that new law. It read, in part: "The use of marked cards, loaded dice, plugged or tampered-with machines or devices are expressly made unlawful."
** The former Dutch Garden building today houses On Command 2, a pet boarding center, and previously was the Yen Ching Chinese restaurant site.