Listen to this blog post here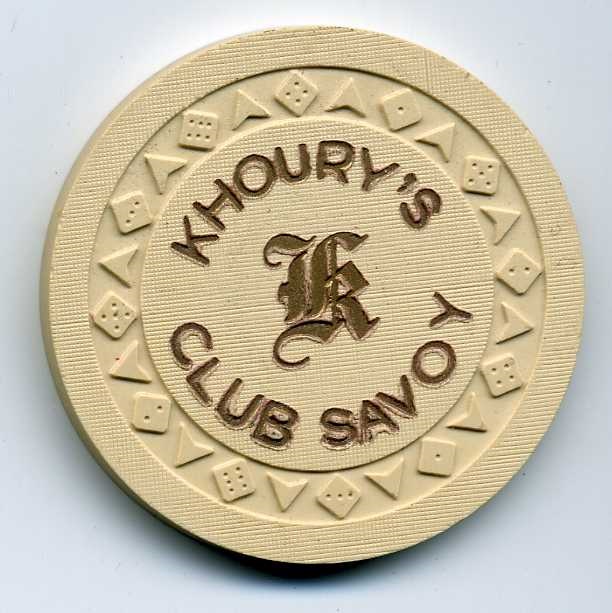 1949-1953
Only months after Cleveland bar owner, Norman Khoury's 1949 acquisition of Club Savoy in Las Vegas, Nevada, California mobster/gambler Allen Smiley, an associate of the then-deceased Benjamin "Bugsy" Siegel, unexpectedly approached him.
Smiley introduced Khoury to Bob "The Fixer" Smith, who'd been prominent in Vegas' gambling industry in the 1930s. Subsequently, Smith allegedly purchased a 50 percent interest in the casino from Khoury for $100,000 ($1 million today). However, Smith was broke at the time, a fact perhaps unknown to Khoury. 
The next week at 4 a.m. on Sunday, Smith appeared at the club with 10 men, plopped down $30,000 ($300,000 today) in cash and $1,400 ($14,000 today) of silver and informed the night casino manager, Pete Brady, Smith's people were to replace Khoury's dealers immediately, which they did. Khoury, the entity's primary gambling licensee, wasn't present. Under usual operating circumstances, with his own manager in charge and his own employees working the casino, he wasn't required to be there.
Jack Durant, the casino manager at the Flamingo, a rival gaming house, showed about three hours later, flanked by widely known gambling figures. Among them were Smith, Smiley and Louis "Russian Louie" Strauss, who was believed to have murdered a man at a Lake Tahoe hotel-casino in 1947.
Durant played craps, starting with $5 chips and graduating to $500 ones. In 45 minutes, he won $67,000 ($671,000 today) but was paid only $20,000 ($200,000 today) in cash from Smith's bankroll. Likely over the monetary shortfall, Durant and Brady got into a fist fight, which a bystander broke up.
When Khoury heard of the incident, he refused to pay Durant the remaining $47,000 ($470,000 today) of his "winnings" as he'd learned crooked dice, ones that only throw sixes and eights, had been used during Durant's play. Because Khoury failed to pay the entire amount, the Las Vegas city commissioners suspended his gambling and liquor licenses, began a search for the crooked dice (which mysteriously went missing) and notified the state tax commission. Khoury was forced to close his establishment.
Khoury "charged that he was the victim of a fast shuffle involving a pair of dice that didn't belong to the club, and he therefore is not obligated to pay off," reported Long Beach, California's Independent (Dec. 23, 1949).
When the city and tax commissioners tried to investigate what'd occurred at Club Savoy, none of the men present during the gambling spree, including Smith and Durant, could be found as they'd skipped town.
Possible Motive
Were these events, beginning with Smiley's introduction of Smith to Khoury, a double cross by the Flamingo to force Khoury's Club Savoy out of business?
If so, it worked.
In January of 1950, the tax commission revoked and suspended Khoury's gambling license for six months for two reasons: 1) He let Smith's people operate the games when Smith's name wasn't on the gambling license. 2) In allowing Smith, about whom he knew nothing, to take over operation of Club Savoy, and due to what ensued, specifically nonpayment of the debt, he generated negative publicity about the club and Nevada, as the story made headlines in numerous publications.
The suspension of Khoury's gaming license, however, lasted longer than a half-year. When Khoury reopened Club Savoy as a bar in September 1951, the tax commission only allowed him a gambling license for slot machines.
Two years later, in 1953, Khoury closed Club Savoy for good.
What would've happened if Khoury had paid Durant the entire $67,000 at the time? Would he have kept his licenses and continued to run Club Savoy interruption free? Would the Flamingo have harmed Khoury and his enterprise some other way?