Listen to this blog post here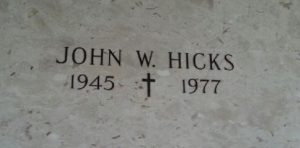 1972-1977
A $25,000 ($146,000 today) offer for the murder of 27-year-old John "Johnny" W. Hicks had been circulated, it was rumored throughout Las Vegas in mid-1972.
The son of Marion B. Hicks, previous owner of the Thunderbird Hotel, and his wife Lillian, then proprietor of the Algiers Hotel next door, Johnny was working as an executive at the latter business.
Among the potential reasons someone wanted Hicks hit, two possibilities ranked high:
• His involvement in a botched coercion attempt that exposed a citywide cheating ring
• His suspected relationship with the wife of a Mob-associated, high-profile casino operator
Plan Gone Wrong
About two weeks before murmurings about the hit contract, on May 30, at 5 a.m., Hicks drove two men, supposedly friends or associates—Robert Lee Murphy and John Branch— to the Vegas neighborhood of Melvyn Myers, a casino executive. Branch stayed in the car while the two others went to Myers' house and rang the doorbell. When Myers began opening the door, Murphy charged in and struck Myers on the head with a pistol, felling him.
Myers, who'd taken a gun with him to the door, fired several shots, four of which hit Murphy.
Hicks bolted back to the car, where he and Branch waited for Murphy, but he never exited the house. He was dead. When the two spotted a patrol car arriving on the scene, they absconded.
The police later picked up Hicks and Branch, who were charged with murder, attempted murder, burglary and conspiracy to commit burglary. Later, the first two counts would be dropped due to insufficient evidence.
Another Crime Illuminated
While in custody, Hicks supposedly told authorities about a large group of cheaters he was involved with which had bilked a handful of major gambling resorts in downtown and on The Strip of hundreds of thousands of dollars.
"Some sources said as much as $3 million had been siphoned off the gambling tables by the thieves and that the ring included as many as 150 casino employees," the Nevada State Journal reported (June 12, 1972).
Phil Hannifin, chairman of the Nevada Gaming Control Board, said the figure was more like $300,000 to $400,000 ($1.75 to 2.3 million today).
The cheating method required the use of a cheating device (police found one such contraption in Murphy's home) and three people, two of which had to be insiders—a dealer and either a boxman or pit boss. As such, certain members of the cheating ring supposedly had pressured, sometimes physically, casino employees, particularly ones in debt with loan sharks, into participating.
"An unusual number of strongarmed incidents and assaults have occurred here in recent months. Many of the victims were casino or hotel workers," noted the Nevada State Journal (June 12, 1972).
The trio had gone to Myers' home "to keep him from talking" about the scheme he'd refused to be involved in, Hicks said. The powers behind the cheating ring had a contract on Hicks' head because he knew too much about the operation (Los Angeles Times, June 16, 1972).
"Several persons mysteriously disappeared and a rash of fatal shootings erupted the week Murphy was killed," reported the Nevada State Journal (June 12, 1972).
Hicks paid the $13,000 bond (about $76,000 today) and supposedly skipped town.
A Treacherous Affair
By late 1976, Hicks was back in Las Vegas and working as a floorman at the Horsehoe Club. He and Geri Rosenthal allegedly had reconnected and were seeing each other. Geri, though, at the time, was married to Frank "Lefty" Rosenthal, who ran the Stardust casino for the Chicago Outfit. Hicks lived across the street from the Rosenthals, in a gated community that bordered the Las Vegas Country Club.
Tragedy Ensues
Hicks was shot just outside his residence on January 14. He succumbed to fatal head wounds within an hour's time despite being rushed to Sunrise Hospital. He was 32 years old.
Was Hicks' assassination intended to silence him for good about the cheating ring? Was it perhaps retaliation for exposing that operation 4.5 years earlier? Was it maybe to appease a jilted, jealous husband? Or was it motivated by something else entirely?