Listen to this blog post here
1940s
A spate of "roadside zoos" opened along various Nevada highways, typically in rural areas, during the late 1940s.
The owners were hustlers who lured unsuspecting tourists onto their grounds with the promise of seeing exotic birds, reptiles and/or wild animals then swindled them out of money via games of chance.
The ruse often involved the three-dice game chuck-a-luck or a variation thereof. Although uncommon in casinos, chuck-a-luck was legal, but "thieving and cheating games" weren't (Nevada State Journal, April 1, 1945).
Chuck-a-luck's odds greatly disfavored the players who, on average, lost more than they won — and that was with legitimate dice.
"A shill, posing as another tourist, usually draws the victim into the game which involves eight dice, a "contract" supposed to govern the same, a fast and not always accurate count of the dice by the operator, and a process by which the player loses all when he is no longer able to add to his stake," explained the Reno Evening Gazette (May 23, 1947).
Numerous travelers complained to local officials about being fleeced at these places. The state governor, the attorney general and other officials despised these enterprises and wanted them eliminated as they stained Nevada's reputation. The state legislature, in early 1947, passed a law prohibiting these fronts for games that victims couldn't win, thinking that would eliminate them. However, Nevada police superintendent, Lester C. Moody, didn't seem to be getting it done from a law enforcement standpoint.
They're Baaaack. . .
But it didn't; a minor alteration allowed the racket to continue. Owners simply switched their bait from animals to a museum, which was legal, and continued bilking visitors out of their cash. One such operator was Robert Lee Thomas, who ran such an establishment in Rhyolite off of Highway 95.
"Nevada, noted for its fair play, strong men and decisive action, is lying down while racketeers, most of them of unknown reputation, move in and take a haul of thousands of dollars a day from unsuspecting tourists," wrote Paul F. Gardner (Nevada State Journal, June 1, 1947).
Victims kept complaining to city and state authorities. The allegations included:
• The racketeers told them they couldn't stop playing and take their winnings but, instead, had to double up and keep on.
• When they'd protested, menacing men "roughly and threateningly" ejected them from the property (Nevada State Journal, June 1, 1947).
• When they'd said they intended to report them to the attorney general, the con artists warned them via veiled threats to keep quiet.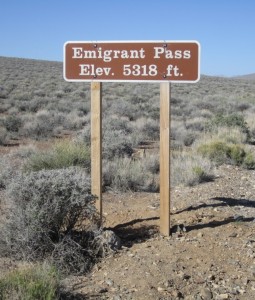 Mr. and Mrs. Fowler of Los Angeles, California, claimed they'd been taken for $15,500 in traveler's checks (a $164,500 value today) at Ernest Dennison's Emigrant Pass establishment on Highway 40 (Interstate 80 today). When the couple entered the place, they were cajoled, on the pretext it was legitimate, into playing badger the old cowboy, a form of chuck-a-luck. In the game, the player throws eight dice hoping to make a high or low total score with them. 
A Palo Alto, California, man asserted he'd lost $60 while participating in a chuck-a-luck game at the Nevada Trading Post on Highway 40; Mr. and Mrs. Hill, Alameda, California, residents, lost $100 in a similar way.
Some victims found themselves without money to return home and wound up stranded.
Stricter policing — revoking the owner's licenses or arresting those operating illegally — eventually eradicated these roadside con game joints for good.