Listen to this blog post here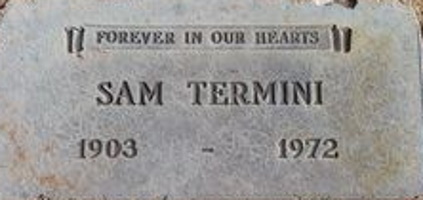 1928-1972
Samuel "Sam" F. Termini (1903-1972) was known as a small-time racketeer who worked at and operated gambling enterprises mostly for others.
Here are 10 interesting tidbits about him and his life:
Gambling History
1) Termini was associated with Kansas City Mobster Charles Binaggio. Born and raised in Missouri, Termini had worked for Binaggio before moving to California in 1939 and was one of his godsons.
2) Termini became involved in gambling in Kansas City, Missouri, where, reportedly, he owned and operated some type of business at 404 Independence Avenue where he offered illegal gambling
In Northern California, Termini managed the illegal gambling at the Willow Tree in Colma (San Mateo County), co-owned by Mobsters Emilio Giorgetti and Elmer "Bones" F. Remmer. He held this job from 1942 until the sheriff closed the club in 1947. Also, Termini owned a 10 percent interest in the operation.
Subsequently, in the same county, Termini, using the alias Sam Murray, he rented some space in the Silver Saddle tavern-café, in which he debuted and ran the Skyline Club in Redwood City. The illegal gambling there included craps and blackjack.
Termini leased and managed the gambling concession at the Tahoe-Biltmore in Crystal Bay, Nevada during the warm weather season of 1949.
Starting around the mid- to late 1950s (see No. 9), Termini worked as a pit boss at the Horseshoe Club in Las Vegas, Nevada. At the time, his former associate Giorgetti owned it.
3) When Termini ran legal gambling at the Tahoe-Biltmore, Binaggio visited the financially troubled property and decided to bankroll his godson in what was to be "the biggest gambling joint west of the Rockies," reported the California crime commission in its 1953 report. However, the assassination of Binaggio on April 6, 1950 ended the plan.
4) Police busted Termini for illegal gambling in 1928 at his Kansas City establishment and fined $25 (about $410 today).
Custom Home
5) Termini had a custom home built for him and his family in Hillsborough, California. Constructing a home at the time, in 1946, required veteran's priority, which Termini didn't have. So he transferred title of his property and obtained building permits for it in the name of a nephew, a World War II veteran living in Missouri, Jesse LaBoi. This was illegal.
6) Once completed, Termini's home was an impenetrable fortress. A heavy electronic fence surrounded the property and was controlled from an underground room. This barrier was equipped with a ring of electric eyes linked to an alarm and motion activated floodlights. Gates allowed for entry but only through controls on the Terminis' cars or by telephoning an unlisted number. The door to the wine cellar was armor plated. An house-wide intercom allowed Termini to hear any and all conversations taking place anywhere inside the home.
Lawsuits Against Him
7) In 1951, the general contractor and architectural firm that built and designed Termini's house, respectively, sued him. The former asked for $103,000 ($1.1 million today). The latter asked for $16,000 ($107,000 today). Both amounts were the unpaid balances owed them for their services. The case went to trial, and jurors ruled only in favor of Marshall. They awarded him $126,523 ($1.4 million), including interest and court costs.
8) The federal government tried Termini in 1952 for under-reporting his and his wife's income and underpaying the amount of federal income taxes they owed. The years for which he was charged were between 1945 and 1949 for his taxes and 1945 and 1947 for hers. Termini was found guilty of tax evasion in the amount of about $92,000 ($976,000 today). The judge sentenced him to three years in federal prison and a fine of $20,000 ($212,000 today).
Last 20 Years
9) For the tax evasion, Termini spent three years in the McNeil Island Federal Penitentiary. After getting released, he reportedly lived and worked in Las Vegas. Eventually, he moved to Reno, Nevada.
10) Termini passed away on June 12, 1972 at age 69 in Reno. His body was interred at Mountain View Cemetery.