Listen to this blog post here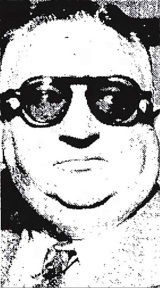 An unpleasant, self-described "big gun," Elmer "Bones" F. Remmer (1898-1963) was "once one of the San Francisco Bay Area's flashiest and most successful gambling czars," having owned numerous clubs in which he offered illegal games of chance, noted the Oakland Tribune (June 12, 1963). Before solely working in Northern California, Remmer worked in Northern Nevada for the Graham/McKay syndicate, the local Mobsters who then controlled gambling there.
He likely is most associated with his Menlo Club in San Francisco, which he operated during the 1940s, and the Cal-Neva Lodge at Lake Tahoe in Crystal Bay, Nevada, which he ran in the 1930s and subsequently owned in the 1940s. Also during the latter decade, he owned the 21 in El Cerrito, the Oaks Club in Emeryville, and the 110 Eddy and B&R Smokeshop in San Francisco — all in California.
Here are 10 true tidbits about Remmer:
1) He was shafted by actress Clara Bow in September 1930, when she stopped payment on three checks totaling $13,900 (about $198,000 today), which were meant to cover the gambling debt she'd racked up at the Cal-Neva Lodge. (This was even after he'd gifted her with a bottle of whiskey when she'd arrived at the property.)
2) His wife divorced him the following month on grounds of physical and other cruelty. She claimed she'd given Remmer $15,000 ($220,000 today) to buy into the Cal-Neva Lodge and quoted him as telling her, "I got so much publicity out of Clara Bow's bum checks that now I know everyone and am hobnobbing with the elite. You're no help to me now — just a detriment." In the divorce settlement, Remmer had to pay her $15,000 ($270,000 today) in cash and $150 ($2,700 today) per month as alimony.
3) Remmer freely paid off state and local politicians to ignore his illegal gambling operations in the Golden State's Bay Area. For one, he donated $170,000 ($1.9 million today) in campaign contributions to California Attorney General Frederick "Fred" N. Howser.
4) He was arrested and charged with intoxication, along with three others, following a drunken fight in the Encore bar-restaurant in West Hollywood one early morning in December 1950. The other brawlers were Edmund M. Scribner, a Bakersfield gambler who'd worked for Remmer before; Thomas J. Whalen, St. Louis gambler, and his companion, actress Vici Raaf.
5) While in police custody following the melee, he was served by federal agents with a subpoena, which he'd been dodging, to testify at the upcoming Kefauver Committee hearing. During the hearing in 1951, Remmer couldn't be found, as he allegedly was waiting it out in Mexico, and never testified. One that threat was gone, he returned to Northern California.
6) Remmer went to trial twice, in 1948 and 1949, in San Francisco for operating illegal gambling houses and using business fronts to do so. Both cases ended in hung juries.
7) Jury tampering was alleged during Remmer's first tax evasion trial in 1951-1952. An outsider, who claimed to know Remmer, approached and suggested to one of the jurors he make a deal with Remmer, insinuating Remmer would pay for a vote in his favor. The juror refused and notified the judge. The United States Federal Bureau of Investigation investigated but concluded nothing untoward had occurred. Ultimately, on appeal, the conviction of Remmer stood, and no charges against the reported interloper were pursued.
8) He was found guilty of federal tax evasion in 1952, but the appeals court ordered a retrial because of the alleged jury tampering. Tried again in 1958, he was found guilty a second time, and the higher court upheld the decision. He was sentenced to a $20,000 fine (about $185,000 today) and five years in prison. He served 2.5 of those, at the Federal Correctional Institution, Terminal Island in San Pedro, California, getting paroled in 1961.
9) He had money problems later in life. Before prison, Remmer paid the requisite pieces of casino income to various mob bigwigs, including Benjamin "Bugsy" Siegel, New York mobster; Johnny Rosselli, member of the Chicago Outfit; and Jimmy Lanza, head of the San Francisco crime family. Remmer also freely gave money to various local and state politicians. After paying the Internal Revenue Service his tax arrears of $63,000 (about $530,000 today), finances were tight. After prison, he sold cars, until his death four years later, for his brother William Remmer, who co-owned a lot in Oakland, California.
10) Nicknamed "Bones" as a joke because of his fluctuating, 225- to 300-pound size, he is said to have struggled, all of his adult life at least, with an endocrine disorder. Remmer passed away after "undergoing treatment following surgery for a glandular ailment" at age 65 in 1963 (San Mateo Times, June 12, 1963).