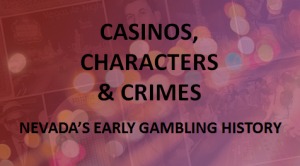 Date: May 23, 2018, Wednesday
Time: 6:00-9:00 PM
Place: TMCC Meadowood Center
Cost: $39 (plus 20% discount available – see below)
It's that time again! If you're in Northern Nevada, please join me for this super fun gambling history class covering Nevada's early years, 1864 through 1931. We'll conduct a mock trial (a minor v. a gambling saloon), create a timeline, hold a mobster lineup and even gamble, Native American style. . . 
Get 20% off tuition by signing up by the event date (May 23); simply enter class code MAY18 at checkout (only one discount allowed per person). For details and to register, click here. 
Graphic illustration by Shay Swetech, WoundUp Studio