Listen to this blog post here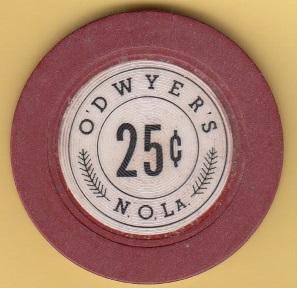 1953
On a weeknight in May, Louisiana state policemen surrounded a high-end home in the New Orleans suburbs. One of them knocked on a secret side door that contained a one-way glass window, allowing those inside to see out but not those outside to see in. A man in the house opened the door but slammed it shut once he realized who was there. Using sledgehammers, the troopers penetrated that and another door and entered.
Inside, they saw that much of the residence had been converted into an illegal casino. The living room, dining room and a third, smaller room all contained gambling equipment. A cocktail bar in the basement served guests.
Scattered throughout these areas were about 40 to 50 people, several of whom fled upon seeing the authorities. Three even jumped out of a window.
Operating Clandestinely
In the 1920s, parimutuel horse race betting became the only legalized form of gambling in Louisiana, although many casinos operated out in the open anyway, unlawfully, and this went on for decades. However, many of those enterprises went underground after Senator Estes Kefauver and his fellow committee members, in New Orleans in 1951, held hearings on organized crime. Following that probe, Jefferson Parish Sheriff Frank J. Clancy closed the area's gambling houses.
One of those shuttered illegal clubs was O'Dwyer's,* which had been owned and operated by brothers George L. and Rudolph "Rudy" T. O'Dwyer. Previously, the duo had run gambling establishments in New Orleans.
The home where the raid took place belonged to George's son, Edward L. O'Dwyer.
Too Much Stress?
When she saw the police activity, Edward's aunt and next-door neighbor telephoned her brother, George, and told him what was happening at his son's home.
Immediately, George jumped in his car and sped to the scene. While pulling into his sister's driveway, he suffered a heart attack and died on the spot!
Netting a Jackpot
Meanwhile, from the various gaming rooms in Edward's home, troopers seized three roulette and three blackjack tables, $1,300 in cash (about $12,000 today) from various strongboxes and four loaded revolvers discovered in a cabinet.
"[It was] the most gambling equipment we've gotten on any raid," Col. Francis Grevemberg said of the haul (The Monroe News-Star, May 27, 1953)
The state policemen released all the players but arrested the five operators, none of whom was an O'Dwyer, on illegal gambling charges. It's unknown what happened to these men subsequently.
* O'Dwyer's, open from 1949 to 1951, was located at 100 Jefferson Highway, New Orleans. It's now a Salvation Army store.