Listen to this blog post here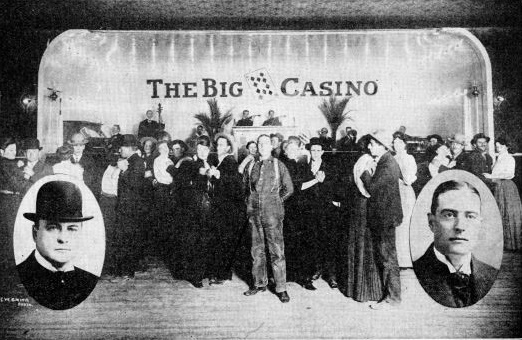 1913-1915
Circumstances of a lawsuit in the U.S. led to an unusual occurrence, even for Nevada: the federal government taking over and running a Silver State casino.
It was The Big Casino, a combination casino, dance hall, hotel and restaurant, in Tonopah, then one of the state's few remaining true mining towns. At the time, William S. Johnson and G.W. Summerfield owned the business.
The Ball Starts Rolling
The impetus for this unprecedented action was a lawsuit William Johnson's ex-wife Roxa S. Johnson filed in mid-1913, asking the court to set aside the former couple's divorce decree. A Nevada judge had granted it about 3.5 years earlier, on Dec. 14, 1909, on grounds that Roxa had abandoned William.
The two had married in 1890 in Ohio, and their union had resulted in a son Clemmer, born in 1896. At some point, the Johnsons had moved to Tonopah, Following the legal split, Roxa and Clemmer had relocated to and lived in Los Angeles. William had stayed put.
Details of the Suit
In her filing, Roxa claimed she'd been deceived under false pretenses into signing an agreement noting William would give her an existing $13,000 (about $369,000 today) note and pay her $76 ($2,000) per month. His estate, however, was worth multiple times that, an estimated $110,000 ($3 million today).
Roxa also alleged she'd been induced to sign another document that waived notice of the divorce and allowed the case to be heard within an hour. She'd noted that while she'd waited in the office of William's attorney for him to return, he'd filed the action, and the judge had granted a divorce decree. Roxa had signed the forms at 12:30 p.m., and the case had concluded before 2 p.m.
Further, she claimed the divorce had come about through fraudulent means. Specifically:
The agreement she'd signed had no legal standing
Roxa hadn't known anything about a divorce action until the judge issued the decree
William's abandonment claim and his testimony supporting it had been false; she and William had been living together up to three days before the divorce request was filed
No mention had been made of there being a minor child
William had claimed he lacked financial means
A default hadn't been entered in the case
Judge Hits Pause Button
As a result of Roxa's lawsuit, in August, Federal Judge William W. Morrow issued an injunction and restraining order to William, barring him from disposing of any of his property until the case got resolved.
Along with The Big Casino, William's assets included the one-year-old Green Goose Tavern and other real estate, in Tonopah; 27,498 shares of the Nye County Land and Livestock Company; securities in other commercial entities; and about $3,000 ($85,000) in cash and diamonds.
Morrow also appointed a receiver, T.F. "Frank" Bonneau of Tonopah, to take control of and maintain William's assets until further court order. William sought to have the receivership vacated, arguing that it was detrimental to his casino business and that the order was illegal, given that William wasn't the sole owner of The Big Casino. The co-proprietor's efforts, however, were unsuccessful.
Uncle Sam Becomes Gambler
Thus, on Aug. 21, 1913 the U.S. government assumed control of and began operating The Big Casino. Joe Monahan was in charge of the gambling component.
"These were mad, merry days at the dance hall," reported The Tonopah Daily Bonanza (June 10, 1915). "Uncle Sam enjoyed a splendid revenue … he took the roof off and let the blue sky shine in. He brought forth card tables and other gambling devices and told his patrons to go the limit."
For about two months, the government was "raking in the money" from this popular enterprise.
That revenue ceased, though, in mid-November, when the Nye County Commissioners revoked the business' liquor license.
"Finally local authorities decided that Uncle Sam was entirely too rotten in his methods for a God-loving, law-abiding mining camp," the Bonanza reported.
Once it became a dry establishment, patronage plummeted, and Bonneau closed the place soon after.
The Resolution
A few weeks later, on Dec. 15, 2013, The Big Casino reopened under new, non-governmental management, that of Charles Enquist, a previous owner. Liquor was allowed to flow again and did.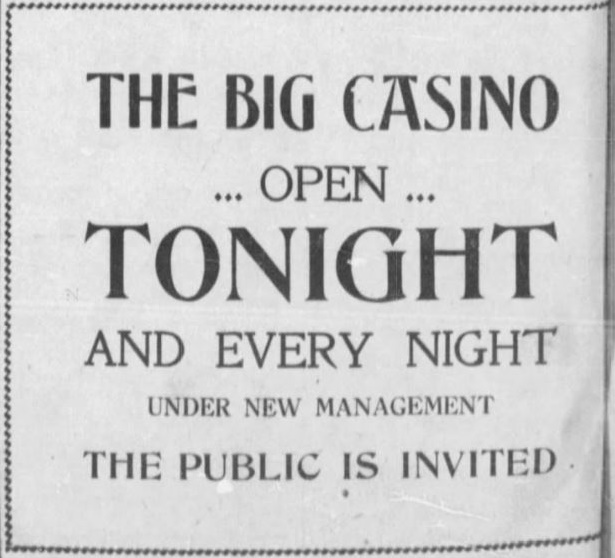 As for Johnson v. Johnson, it dragged on for two years, into 1915, but William wasn't around for most of it. He died in March 1914 from heart trouble.
Ultimately, the court found Roxa had a legal right to much more than what she'd agreed to, about $80,000 ($2.2 million), according to Court Master Lester J. Summerfield, who'd heard testimony about and had assessed William's assets.  
————————