Listen to this blog post here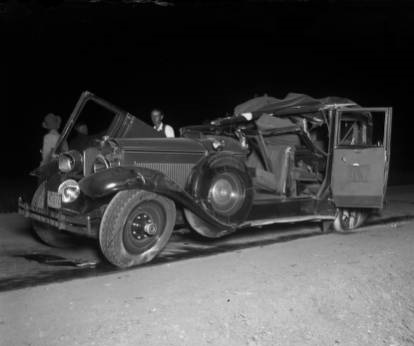 1936
Gambler Leo Barnes and his wife had only been in Denver, Colorado for about six months, having moved from Kansas City, Missouri. On the night of Dec. 8, the couple got in their car to go somewhere.
When Barnes stepped on the car's starter, an explosion blew him through the roof. He suffered lacerations and burns on his left thigh but survived. His wife was unharmed.
Barnes suspected it'd been Denver Mobster Ova "Smiling Charlie" Elijah Stephens who'd tried to kill him.
A few months earlier, a judge had ordered the closure of Stephens' Blakeland Inn, in Denver, which had offered roulette, craps and slot machines along with steak dinners and dancing women, and where Barnes had managed the dining room briefly. Out of a job, Barnes had opened his own games at the Cottonwood Ranch not far away. Stephens had demanded Barnes give him a third of the gambling profits or not survive the week. Barnes had refused.
Sources
The Greeley Daily Tribune, "Bomb Blows Denverites Out of Auto," Dec. 9, 1936.
The Greeley Daily Tribune, "Denver Couple Alive After Bomb Wrecks Their Auto," Dec. 10, 1936.