Listen to this blog post here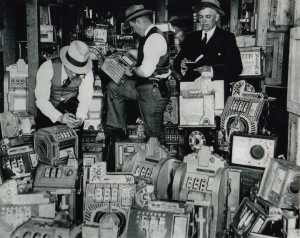 1950s
The manufacture of slot machines, roulette wheels and other gambling equipment was big business in the United States until the mid-20th century when new federal legislation curbed it.
In 1950, the Kefauver Committee, officially the U.S. Senate Special Committee to Investigate Organized Crime in Interstate Commerce, began delving into the underworld's involvement with gambling. The group's findings and recommendations led to Congress passing the Transportation of Gambling Devices Act, a 1951 amendment to the Johnson Act. The law:
• Banned the transport of these devices to states where gambling was illegal
• Required manufacturers/distributors of gaming equipment for interstate commerce to register annually with the federal Department of Justice
• Mandated such paraphernalia crossing state lines be marked appropriately for shipment
The act, however, allowed interstate shipment into any state that passed a subsequent law exempting it from the federal provisions. Nevada did just that. Texas, though, on the other end of the spectrum, forbade gambling device making altogether. It was the only state to do so at the time.
Serious About Enforcement
The FBI cracked down on companies violating this act, and with the help of local police, conducted raids, seized equipment and pressed charges. A judge sentenced a Mississippi man found guilty of transporting six slot machines out of state to one year and one day in a federal penitentiary, a light sentence, he said, in that the offense occurred soon after the legislation banning it had been passed.
This law enforcement pressure caused many manufacturers to close shop and others, such as B.C. Wills & Company, to move to Nevada. Then one of the country's two major roulette makers, it relocated from Michigan to Reno in 1954.