Listen to this blog post here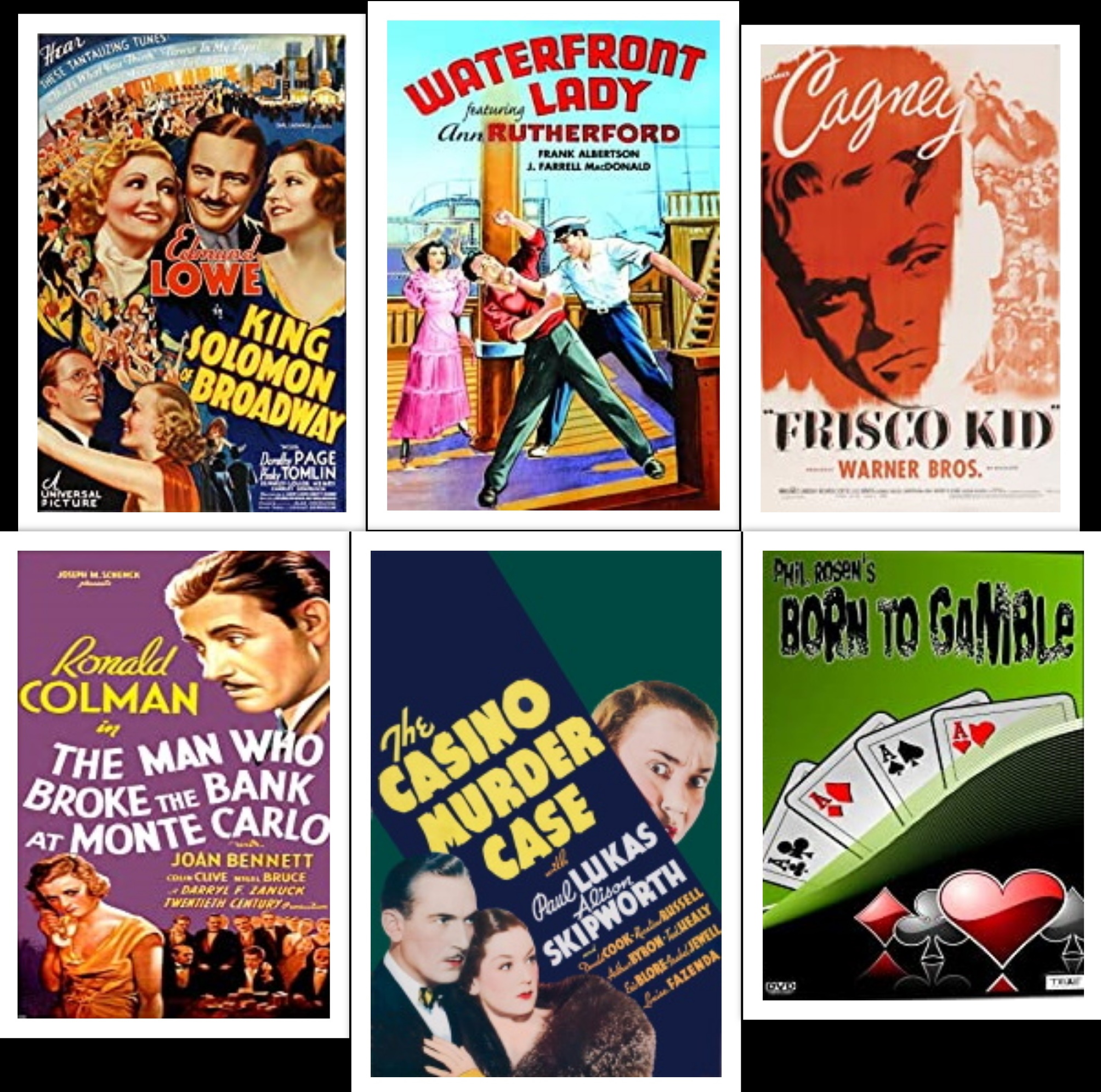 1935
Hollywood movie studios released more than a handful of gambling-related movies in 1935. This seemed unusual given the Motion Picture Producers and Distributors of America's (MPPDA) recent re-commitment to ensuring movies didn't contain content it considered risqué.
Impetus Behind the Code
The MMPDA — today, the Motion Picture Association — adopted the Motion Picture Production Code (MPCC) in 1930. It did so after various religious, civic and political organizations publicly and repeatedly denounced the film industry for its immorality and its "vile and unwholesome" cinematic products, as described in the Catholic Legion of Decency pledge (July 13, 1934).
The purpose of what became known as the Hays Code, named after the MMPDA president Will H. Hays, was to censor movies. The association didn't enforce the guidelines, though, for the first 4.5 years.
Finally, in mid-1934, the MMPDA established the Production Code Administration (PCA), the job of which was to ensure filmmakers followed the code.
"A Catholic layman, Joseph Breen, was named head of the PCA and unlike his predecessors, he meant business," wrote Mike Mashon and James Bell in the article "Pre-Code: Hollywood Before the Censors." "The Code was enforced, this time with an iron hand. Every film made by an MPPDA member was required to have a certificate of approval before release."
The Code in Brief
The guidelines prohibited suggestive or licentious nudity; intentional offense to any nation, race or creed; ridicule of the clergy; the use of profanity; and depictions of the following topics: drug trafficking, sexual perversion, white slavery, miscegenation, sex hygiene and venereal diseases, childbirth and children's genitalia.
The code also urged filmmakers to exercise judgment with regard to 25 other subjects, from arson, rape and sedition to surgical procedures, animal and child abuse, drug use and animal branding. The full list is here. 
Gambling Gets a Pass
In the Motion Picture Production Code, the MPPDA didn't ban or qualify the portrayal of gambling. It didn't even mention it. This is somewhat surprising given a pervasive attitude in the U.S. at the time that gambling was debauched and injurious.
As for North America's gambling landscape in 1935, Nevada was the only place where the activity was legal. In Mexico, President Lazaro Cardenas outlawed it that very year. Underground gambling then, of course, was and had been common throughout the continent.
Subject, Portrayal of Gambling
Gambling was a major theme of seven, maybe more, films made in 1935. These accounted for only a small percentage of that year's movies in general; the MPA issued certificates of approval for about 600 movies.
None of the features in the septet glorified gambling. Rather, each depicted a cautionary tale about its perils, the message being that gambling leads to bad, even dire, situations and circumstances.
Here are those movies, each with a synopsis:
1) "Casino Murder Case"
Genre: Mystery
Director: Edwin L. Marin
Stars: Paul Lukas, Alison Skipworth, Donald Cook
Studio: Metro-Goldwyn-Mayer
Someone poisons socialite Lynn Llewellen (Donald Cook) at his uncle's casino and then kills his wife. Society sleuth Philo Vance (Paul Lukas) works to solve the murders.
2) "Waterfront Lady"
Genres: Crime, Drama, Romance
Director: Joseph Santley
Stars: Ann Rutherford, Frank Albertson, J. Farrell MacDonald
Studio: Mascot Pictures
Ronny Hillyer (Frank Albertson), the manager of a gambling ship, becomes ensnared in a police investigation and manhunt after he covers up a murder committed by his partner McFee (Charles C. Wilson), the enterprise's owner.
3) "The Payoff"
Genres: Crime, Drama, Romance
Director: Robert Florey
Stars: James Dunn, Claire Dodd, Patricia Ellis
Studio: Warner Bros
Joe McCoy (James Dunn), a sports writer for a New York newspaper, is forced to cover gambler Marty Bleuler's (Alan Dinehart) rigged wrestling matches after McCoy's wife Maxine (Claire Dodd) loses lots of money at Bleuler's casino.
4) "Born to Gamble"
Genres: Adventure, Drama, Romance
Director: Phil Rosen
Stars: Onslow Stevens, H.B. Warner, Maxine Doyle
Studio: Liberty Pictures
A wealthy man, Carter Mathews (H.B. Warner), tells a series of family tragedies resulting from gambling.
5) "Frisco Kid"
Genres: Adventure, Romance
Director: Lloyd Bacon
Stars: James Cagney, Margaret Lindsay, Ricardo Cortez
Studio: Warner Bros
On the Barbary Coast in 1852, a roustabout sailor, Bat Morgan (James Cagney) rises to a position of power in the vice industry after avoiding being shanghaied into gambling elsewhere.
6) "King Solomon of Broadway"
Genres: Comedy, Crime, Drama
Director: Alan Crosland
Stars: Edmund Lowe, Dorothy Page, Pinky Tomlin
Studio: Universal Pictures
In this musical film, "King Solomon" (Edmund Lowe) is running Solomon's Palace, a nightclub on Broadway, while owner and Mobster "Ice" Larson does time in Sing Sing. During a game of chance, set up by Larson's nemesis, Solomon loses $64,000 he borrowed from Ice. If he can't pay the gangsters the debt in three days, he must give them the club.
7) "The Man Who Broke the Bank at Monte Carlo"
Genres: Comedy, Romance
Director: Stephen Roberts
Stars: Ronald Colman, Joan Bennett, Colin Clive
Studio: 20th Century Pictures
Paul Gallard (Ronald Colman), a former Russian nobleman, now a taxicab driver, wins big at Monte Carlo then immediately returns home to Paris. Afterward, he vows to stop gambling. However, he falls in love with Helen Berkeley (Joan Bennet), who connives to get him to back to the famous casino to gamble. Unknown to Gallard, she's following a crime syndicate's order to lure him back to Monte Carlo.
What 1935 gambling-related movies did we fail to include here? Please let us know.
——————————-