Listen to this blog post here
1929-1933
Le Casino Municipal in Nice, France refused to cash Frank Jay Gould's check so he could keep gambling there. This irked him. Gould wasn't just a member of the bourgeoisie. Rather, he was an uber-wealthy American who'd been living and investing millions of dollars in various business ventures in the French Riviera since 1913.
I'll show them, he thought; I'll build the most magnificent, classiest gambling house in all of Europe—"a palace the Caesars could not have built," Gould said (Lima Sunday News, Jan. 15, 1933). I'll put it close to that municipal casino and call it the Palais de la Méditerranée (the palace of the Mediterranean).
That's what he did. He went all out and spared no expense. The grand cost came to $5 million (about $76 million today), an amount his wife (the third one) was said to have won in just a week at the gaming tables. The project took nearly two years to complete.  
Gould engaged architects Charles and Marcel Dalmas, who designed the building "like a modernized palace of ancient Rome," reporter Alice Langelier wrote (The Bee, Nov. 29, 1929).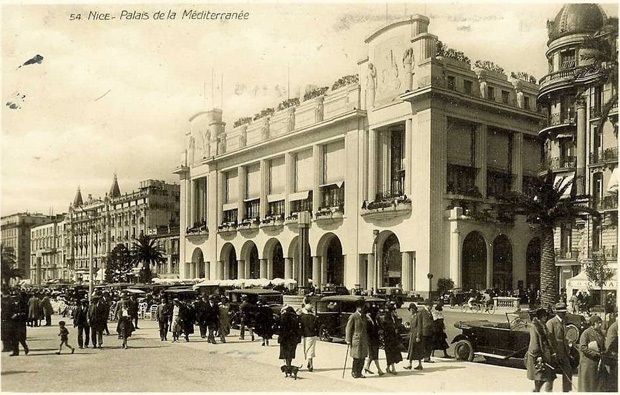 Showcasing a neoclassical style, the expansive casino was built out of 1,000 tons of marble and 90 tons of steel and boasted high-vaulted ceilings, frescoed walls, glass chandeliers, immense mirrors and "expensive tricks of illumination and decoration to add to its charm," the Lima Sunday News reported. The foyer staircase was one of, if not the, largest, in history. The interior displayed works, many of them well-known, of more than 100 artists.
"Inside there is none of the usual white and gilt adornment associated with all casinos. It is artistic, harmonious, but at the same time almost 'home-like,'" noted Langelier.
The luxurious Palais featured a series of gambling rooms "with the 'class' nicely graduated from low to high: in one room tourists can play for a few francs a throw, in the next the stakes are a little bit higher, in the next they are higher yet — and so on, until the expensive private parlors are reached where only American millionaires, Indian potentates and the like are admitted," according to the Lima Sunday News. One room contained 42 baccarat tables accommodating up to 500 players and space for up to 1,000 spectators. 
The house of pleasures also contained an elaborate theater, fine dining restaurant and wine cellar stocked with roughly 4,000 bottles.
The magnificent structure "stands on the best part of the Promenade des Anglais, facing the sea, and at night is easily seen by its cornices of concealed light and the white glow which bathes it from barrel-shaped searchlights on its terrace," Langelier described. "This super-casino covers two acres of territory and swings like Brooklyn Bridge on supports from its columns."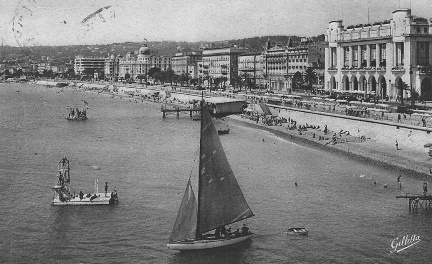 "The gambling king of France's" Palais de la Méditerranée debuted in 1929, during the Jazz Age, and exemplified the period's glamour.
When tourism was high and business was good, the casino, located a half-mile from Nice's Casino Municipal, yielded an annual profit of about $785,000 ($15 million today).
Work of Another Disgruntled Man
Four years later, a fire ravaged the Palais. In the hour it took firefighters to put out the flames, the architectural masterpiece got ruined.
"The gorgeous interior was destroyed, its costly marble wall cracked and broken, its glass chandeliers worth thousands shattered," The Hammond Times reported (Nov. 24, 1933).*
It was believed an arsonist had set the blaze, a male job applicant whom the Palais had refused employment.
————————–
* Subsequently, the Palais was completely restored and remained a viable business until 1978, when it was shuttered. The original property was demolished in 1990 except for two facades that were preserved as historical monuments and a modern hotel-casino was built in its place, now the Hyatt Regency Nice Palais de la Méditerranée.