Listen to this blog post here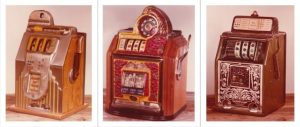 1953
Theodore "Ted" Donaldson, 31, bought six slot machines from Joe Larango of Pyramid Securities Inc., a company with the devices in several Reno, Nevada locations, including the Oak Room casino. Donaldson paid the $1,825 cost (about $17,000 today) with a check. Each slot was valued at about $900 ($8,000 today).
Larango soon discovered the check was invalid as the account it was written against didn't exist. Next, he learned that Donaldson had sold three of those purchased gambling machines to a local novelty store owner for $300 ($3,000 today).
Not Having It
Larango pressed charges against Donaldson, who already had a complaint filed against him. That one was for writing a bad $20 check ($185 today) to Lee Miner, owner of Reno's Midway bar, two months earlier. Bail was set at $2,500 ($23,000 today).
Police officers believed Donaldson had issued at least six fraudulent checks in Reno and Sparks.
On the Larango case, Donaldson was charged with acquiring merchandise under false pretenses, obtaining money via false means and issuing fictitious checks. The judge set bail at $1,300 ($12,000 today).
Strange Proceedings
At the preliminary hearing, Donaldson claimed he thought he'd had enough money in the bank to cover the check to Larango when it was cashed. Yet an employee of his financial institution, the First National Bank, testified at the hearing that Donaldson had opened a checking account with $300 ($3,000 today) several weeks prior to him buying the slots, but the bank manager had closed it when funds had gotten overdrawn.
Donaldson requested a jury trial, which was unusual in that bad check cases rarely advanced to that stage, but one was scheduled.
Then he changed his mind, which was allowed, pleaded guilty and asked for probation. When the state probation officer filed a report on Donaldson for the judge, Harold O. Taber, "the jurist wasn't impressed with what he saw," reported the Reno Evening Gazette (Dec. 16, 1953). The document detailed prior arrests and searches for Donaldson and contradicted "his version of his family affairs."
Denying Donaldson's request, Taber sentenced him to one to five years in Nevada State Prison.
He was paroled in March 1955 after serving 15 months.
As for the other three slot machines Donaldson had acquired from Larango, he at some point had returned them to the seller, whether voluntarily or by order is unknown.