Listen to this blog post here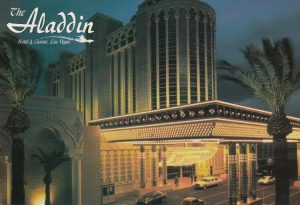 1974
It was a successful scam that cheated the Aladdin Resort and Casino out of about $250,000 (about $1.2 million today) … while it lasted.
Four men had some friends take junkets to the Las Vegas property using the identities of legitimate high-rolling customers. (With a junket, the casino provides the guests' travel, accommodations and meals for free with the hope they'll gamble with loads of money while there.)
Once at the Aladdin, the posers obtained chips on credit. Instead of gambling with them, they passed them off to a co-conspirator who cashed them in and distributed the money among their group of thieves, who lived outside of Nevada.
The feds, however, busted the four ringleaders, ending their spree.