Listen to this blog post here

1949
"Eight the hard way!" "It's the Big Dick!" "Next shooter, please!" "Seven, you lose!"
When translated into the French language, these common phrases shouted by stickmen during craps lose their pizazz and bite, their je ne sais quoi, so to speak: "Dix difficile!" "C'est le gros Richard!" "Au suivant, s'il vous plaît!" "Le sept est perdant."
This was the quandary Louis Ceresol faced when he set out to import the American dice game to the Casino de Monte-Carlo in Monaco in 1949. "C'est impossible," the director of gambling said, referring to achieving a similar effect in the language of love. Ultimately, Ceresol opted to have his croupiers banter in English.
After all, he was instituting craps at the 80-year-old gambling house primarily for its American patrons, who were more familiar with it than with the French games it offered then: single-zero roulette, baccarat, chemin de fer and a high-low card game.
"Too often, Ceresol says, the American tourist comes into the Monte Carlo casino with his hands in his pocket and goes out with them still in his pocket," reported the Nevada State Journal (Feb. 20, 1949).
The casino operation needed reviving after losing $450,000 (about $4.6 million today) in fiscal year 1947-1948. Ceresol hoped its American guests and craps would be the antidote, as about 200,000 tourists from the United States were expected to visit Europe in the coming year.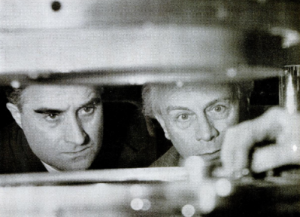 Casino de Monte-Carlo representatives, Albert Jauffret, left, and Louis Ceresol, intently view a dice polishing machineNevada Delivers Model
To learn the ins and outs of craps, Ceresol and his associate, head croupier Albert Jauffret, visited the States in February for a firsthand education. Their first stop was Las Vegas, Nevada, specifically the Flamingo.
"I am here to be taught the new dignity of modern gambling," Ceresol said (Reno Evening Gazette, Feb. 15, 1949).
Next was Reno, Nevada, where they spent time at the Golden and other major gambling clubs. With a tape recorder and movie camera in hand, they recorded numerous games to later use to train their croupiers.
While in Nevada, Ceresol placed an order with George R. Weinbrenner, president of B.C. Wills & Co., a Detroit-based gambling equipment manufacturer, for a craps layout called the Improved Idaho Style Double Side Dealer.
Can't Get Enough
The next stop for Ceresol and Jauffret was Sun Valley, Idaho. Subsequently, the duo continued their craps tutorial, stopping in numerous U.S. cities, including Boise, Idaho; Los Angeles, California; El Paso, Texas; Chicago, Illinois; Detroit, Michigan; and Cincinnati, Ohio. In doing so, they took in numerous games, many operated illegally, and even spotted some occasional cheating, Ceresol said. The Monte Carlo representatives arrived about a month later than originally planned in Jersey City, New Jersey, from where they set sail to Europe.
"They have wired home that they are bringing home the doctrine of the hard eight, the boxcars, Petit Joseph, come betting and the field," reported Bob Considine (Stars & Stripes, May 28, 1949).
Photo from LIFE magazine, March 28, 1949