Listen to this blog post here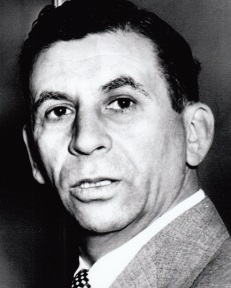 1970-1972
Meyer Lansky was the puppeteer behind the scenes of the world's gambling stage from the 1930s to the 1970s, controlling and manipulating the characters, or National Crime Syndicate members, with aplomb.
He capitalized on his brilliant financial acumen to develop and skim from an international casino empire — encompassing various U.S. states, Cuba, England, Haiti, the Bahamas and Lebanon  — that generated obscene amounts of money. At the height of his success in this endeavor, the late 1960s, this Eastern Europe-born immigrant, né Maier Suchowljansky, was worth an estimated $300 million ($2.3 billion today).
New Home Sought
At age 68, Lansky and his second wife Thelma ("Teddie") moved from Miami Beach, Florida to Israel in October 1970 and four months later, applied for citizenship, as the Mobster wanted to live out the rest of his life there. It's unknown if the reason was his Zionist beliefs or desire to distance himself from potential future criminal charges in the United States. Perhaps it was a bit of both.
"I don't want to make money here," Lansky told the Haaretz newspaper. "I am Jewish and I want to live here."
At that time, under its Law of Return, Israel allowed all Jews from elsewhere except criminals to move there and become naturalized.
However, by that time, a number of racketeers already were using that country as a safe haven from legal reprisal back home. They included gamblers Morris Schmertzter aka Max Courtney, Al Mones, Hyman "Hymie" Segal and Frank Hitter aka Red Reed, along with other underworld players.
In March, two months after Lansky requested Israeli citizenship, a U.S. federal grand jury indicted him for skimming profits from the Flamingo hotel-casino in Las Vegas between 1960 and 1967. When he failed to appear before the grand jury after being subpoenaed, he was charged with contempt of court. Neither offense, however, required Israel to extradite Lansky under its treaty with the U.S.
The underworld's financial ace told the newspaper, Maariv, he didn't intend to return to the U.S. because he couldn't be guaranteed a fair trial. He added that he was a retired, honest gambler, not a gangster.
In September 1971, after an investigation into Lansky's background, Israel's Interior Ministry denied him citizenship on the grounds he "was likely to be a threat to public order" (Reno Evening Gazette, Jan. 14, 1972).
Dissatisfied, Lansky and his attorney took the issue to the Supreme Court of Israel. A temporary injunction allowed the "The Mob's Accountant" to stay put until resolution of the case.
Both Sides Make Plea
Before the high court, in March 1972, Israel's state attorney, Gavriel Bach, asked the jurists to reject Lansky's appeal. Bach argued that granting Lansky citizenship would set a dangerous precedent in that, according to reports from the FBI, Interpol and Scotland Yard, Lansky was deeply involved in organized crime in the States and Canada, with connections worldwide. In fact, the British agency had noted in a report the gaming impresario had tried to arrange a summit with some of his criminal cohorts in Tel Aviv in May 1971.
As if to punctuate Bach's points, while the proceedings were underway, in June 1972, Lansky was indicted again in the U.S., that third time for conspiring to evade federal income taxes on money received from gamblers on junkets to a London casino. Bach informed the court of that development, too. He noted, however, that Israel wouldn't deport the accused even if it ultimately were to deny him citizenship.
Attorney Yoran Alrio presented Lansky's side at the proceeding. Alrio argued that his client simply wanted to retire in Israel out of Jewish religious sentiment, that he lacked a criminal record excluding some minor offenses and that the allegations of a criminal past and connections were simply "rumors, slander and gossip" (Nevada State Journal, March 24, 1972). Alrio quoted an FBI report indicating Lansky had been inactive for seven years.

The Verdict, Implications
Three months later, the supreme court announced its decision; it denied Lansky's appeal for citizenship, meaning he had to leave Israel.
One and a half months later, at October's end, with Lansky still not gone, the Interior Ministry gave him two weeks to depart or face expulsion. Technically, it wasn't a deportation or extradition, as Israel wasn't mandating that Lansky return to the U.S. Rather, he was free to go where he pleased … assuming the country of his choice would have him.
Within the given deadline, the underworld chieftain left the Holy Land with a Paraguayan visa. Yet, when he arrived at the airport in Asunción, he was prevented from disembarking the plane. He continued on the flight through South America to Florida. By mid-November, Lansky, then age 70, was back in the U.S., again taking up residence in Miami Beach.