Listen to this blog post here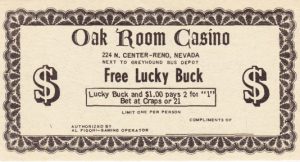 1951
Prior to the July grand opening of the new Greyhound Lines Inc. bus terminal at 224 S. Center Street in Reno, Pyramid Securities Inc. applied for a gambling license and permission to offer games of chance within the new Northern Nevada facility. The request specifically was for craps, 21 and roulette, one of each. The company's executives were Carl Inskeep, Joe Caulk, Emmett Shea and H.M. Hicks.
The Nevada Tax Commissioners indicated they'd permit the small casino if the games of chance were walled off from the depot's waiting room.
The decision was left to the Reno City Council.
A Body Divided
Councilman Bill Ligon opposed the gambling proposal. He disliked the idea of visitors arriving in Reno on the bus seeing gambling right away and wanted to prevent that. Surely having a gambling operation in a place "frequented by children and women" would lead to outside criticism of gambling and, possibly, negative consequences, such as federal legislation against it, he said (Nevada State Journal, June 26, 1951).
The industry, legal and illegal, already was in the spotlight due to Senator Carey "Estes" Kefauver and his eponymous committee openly investigating gambling and organized crime in the United States.
Councilman Roy Bankofier, who stood with Ligon, added that gambling is a privileged business, the growth of which the council must control. 
Councilman Tom Harvey favored granting the license. "Gambling is part of our economy," he said. "Why single out this particular case at this particular time? Would you object to a grocery store going in there? That's a business, too."
"It's a different type of business," said Ligon. "Gambling is a very important part of our economy. Let's protect it. Gambling is a business that must be restricted if we're going to hang onto it."
Councilman Marhsall Guisti said he couldn't approve distinguishing between businesses but believed gambling should be contained in one part of Reno.
Attorney Richard Blakey, representing Pyramid Securities, reiterated to the agency that the gaming area in the bus station would be separated by wall from the waiting room and as such, gambling wouldn't be forced upon anyone. Rather, they'd have to seek it out if they so desired.
Blakey added that slot machines, which are considered gaming devices, are allowed in other bus terminals in Reno. "Should there be distinction between kinds of gambling permitted?" he asked.
The Final Answer
The council vote was a 3-to-3 tie, which Mayor Francis R. Smith was left to break. He voted no, thereby officially denying Pyramid Securities its gambling request for the depot.
Not a Complete Kibosh
In a different, previous application, though, Pyramid Securities had asked the Reno City Council for permission to operate a bar and slot machines in that same new Greyhound depot.
After much discussion, the members allowed it but with conditions. The bar had to be separated from the waiting room and all window glass had to be painted or frosted so it couldn't be seen through.
When Reno's new Greyhound Lines station debuted in July 1951, inside was the Oak Room bar with its 27 slot machines open for business. Eight more working slots sat at the facility's Lake Street entrance.
Other depot amenities included a cafeteria, soda fountain, newsstand and sizable lobby.
"The building is one of the largest and most modern of its kind in the Pacific area," noted the Nevada State Journal (July 26, 1951).