Listen to this blog post here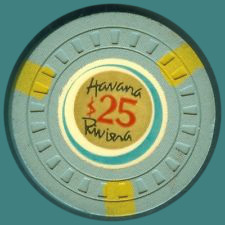 1952–1958
When Fulgencio Batista returned to power as president in Cuba in 1952, he aimed to foster a gambling empire from which he could generate revenue for his coffers. To facilitate casino development, he and his administration:
• Restricted gambling licenses to hotels or nightclubs worth $1 million or more
• Waived taxes, which were as high as 70%, on all building materials imported for new hotels
• Deemed all casino pit bosses, stickmen and dealers to be skilled technicians, so they'd qualify for entry into Cuba under two-year visas versus the typical six-month ones afforded to incoming workmen
• Subsidized construction costs of new hotels
Government-backed banks provided $6 million of the $14 million to construct the Havana Riviera, for instance. The pension fund of the Catering Workers Union of Cuba provided most of the $24 million for the Havana Hilton. Casino operators typically leased space for their operations from the hotel owners; a rate of $1 million per year was typical.
Consequently, lavish hotel and casino construction boomed, as did the gambling business. Cuba became what Mexico had been during Prohibition — a playground for wealthy Americans.
"Havana's casinos are elegant salons with expensive chandeliers, brocade draperies and a mink-stole clientele … At the roulette tables the smallest chips are a quarter. At the craps tables they are a dollar — but nobody who really amounts to anybody thinks of betting less than a $5 chip," described LIFE magazine (March 10, 1958).
Government taxes on the new casinos "were set ridiculously low: $25,000 for a license plus 20 percent of the profits," LIFE reported. While this was the official cost, the true under-the-table fee was $250,000. "And no one has even tried to guess how big a cut the politicians demand at the end of the month." Further, Batista's brother-in-law, Roberto Fernandez y Miranda, had a monopoly on the country's slot machines from which he collected half the profits.
Las Vegas Gamblers Want In
Despite the corruption in Cuba, eight Nevada licensees perceived an opportunity to make money by capitalizing on Havana's gambling trend and dropped at least $400,000 into casinos there.
• Owner/front Wilbur Clark and associates, Thomas McGinty, Moe Dalitz and Morris Kleinmann, of the Desert Inn in Las Vegas leased space adjoining the Hotel Nacional de Cuba in which they opened and operated a $1 million casino called Wilbur Clark's Casino International.
• Hy Abrams, owner, and Benjamin "Bugsy" Siegel, investor, in the Sands in Las Vegas, and Jack Davis, investor in the Fremont Hotel and Casino in Las Vegas held a share of the Havana Riviera casino.
• Clifford Jones, co-owner of the Thunderbird hotel in Las Vegas, owned an interest in the Havana Hilton's casino.
For these men, their investments were ultra-high risk and tenuous, as government depravity was rampant and political strife was high in Cuba.
"For the gamblers, the one completely unknown factor is the position of Batista himself," LIFE noted. "If he fell from power, the gambling mob would have to make a whole new set of deals with a different bunch of politicians. The gambling trade might slow down."