Listen to this blog post here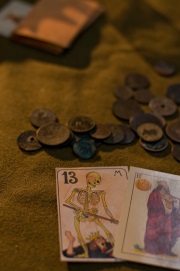 1939
A Fred Martens, or "Fritz the Rooster," sat at a table in a Las Vegas gambling house playing poker with some men. After a streak of bad luck, he seemed headed for a possible straight. Suddenly, though, he suffered a heart attack and died, right in the chair.
One of his opponents yelled to the owner, "Call a doc," and the game proceeded; several pots were won and lost.
Only one interruption in the gambling occurred when, on the physician's arrival, the table had to be shifted to remove the corpse.
Happy Halloween!
Photo by oiasson: "Symbol of Death in Poker Hand"