Listen to this blog post here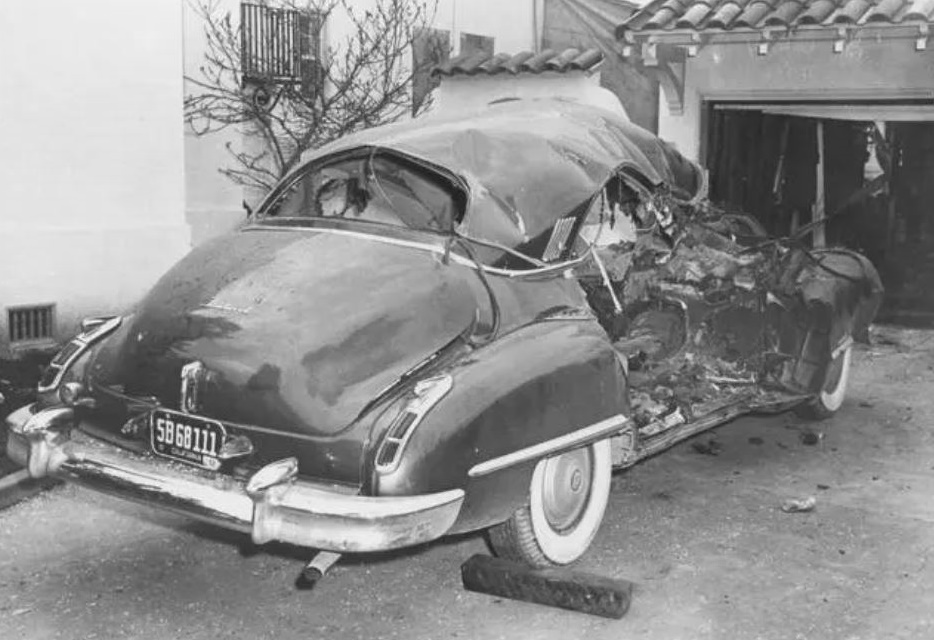 1952
The life of wealthy, prominent businessman with several connections to the gambling industry, Thomas "Tom" A. Keen, 56, was abruptly ended at about 10:07 a.m. on Tuesday morning, February 5. 
After giving some duck eggs to a neighbor, this San Mateo, California resident walked back home. He grabbed his coat, kissed his wife good-bye and went to their detached garage to leave for work.
Once in his green Cadillac Fleetwood, he stepped on the starter. Dynamite hidden under the floorboards ignited and blew up. The fatal explosion propelled Keen's body into the car's back seat and sheared off his legs.
Car parts took flight. One side of the garage blasted apart. Windows of the Keen's 16-room mansion shattered, covering the driveway and sidewalk with glass. Two windows of a home across the street also broke into pieces.
"The terrific explosion scattered flesh, metal and wood over a wide area," reported The Humboldt Times (Feb. 6, 1952). "It was heard for blocks by residents."
Connections to Gambling
The San Mateo, California resident had worked for the past couple of decades years in the field of dog racing and horse racing. First, he'd built and operated the dog racing tracks in Belmont and Bayshore City in The Golden State. He'd co-invented the mechanical hare used in the sport. When California outlawed dog racing, he'd shifted his business focus to manufacturing and supplying totalizators,* also called totalizers and tote boards, for race tracks. Currently, he was president of the International Totalizer Company, based in Belmont.
Keen's work took him around the U.S., to states where dog and horse racing were legal. Most recently, he'd been to Phoenix, Arizona to install one of his totalizators at a dog track. One month earlier, he'd installed five of his quinella** machines in the Miami Beach Kennel Club for purposes of demonstration.
Keen had ties with many dog and horse track operators, many of them connected. At the time, Mobsters controlled many such tracks in the country.
The Tucson-born track betting equipment mogul owned stakes in many tracks, including Sportsman's Park in Cicero, Illinois; the Multnomah Kennel Club in Portland, Oregon; and the Mile High Kennel Club in Denver, Colorado.
"He had no one to fear," said Keen's friend and sports shop owner Joe Darcy. "He was never afraid. He did nothing but good for hundreds of people. Who could have done something so horrible?"
Theory No. 1
According to San Mateo Police Chief Martin McDonnell, Keen likely was killed because he took business into a territory out of which he'd been warned to stay. His department's investigation led McDonnell to deduce Keen had been killed because he'd tried to place his quinella machines in a certain Florida hotel. The chief also surmised there most likely had been two killers, carrying out the assassination on behalf of a Mobster boss somewhere on the East Coast.
Theory No. 2
The second hypothesis was put forth by the California Crime Commission, which had held an unprecedented closed hearing in early May 1952 to investigate the Keen case. In its final report, the commission purported that Keen had been murdered because he'd owed the Olmo Group bookmaking enterprise about $20,000 (roughly $210,000 today).
Allegedly, Keen had been an Olmo customer and a heavy bettor and had refused to pay his debt even after the group's enforcer Richard "Big Dick" C. Trabert had tried "persuading" him to do so. As a result, supposedly Mobster-gambler Emilio Giorgetti and John O'Neil, also part of the Olmo ring, had been forced to cover the loss. (Keen's estate at the time he passed away was worth $204,000 (about $2 million today).
The San Mateo County District Attorney Louis B. Dematteis, who wasn't corrupt, didn't give the bad debt theory much credence, he said. The timing — Keen being murdered two years after the Olmo Group had disbanded — didn't make sense. Dematteis thought it more probable the murder was tied to more recent events.  
The actual motive behind the murder of Thomas Keen remains a mystery; the crime still is unsolved.
————————————–
* A totalizer is the system for running parimutuel betting. It's an electrically operated board that flashes the changing odds and total bets before dog and horse races and the payoff amounts after.
** A quinella, or quiniela, is a bet in which the first two places in a race must be predicted, but not always in the correct order. Quinella machines, which displayed these types of bets, were used in dog, but not horse, racing.