Listen to this blog post here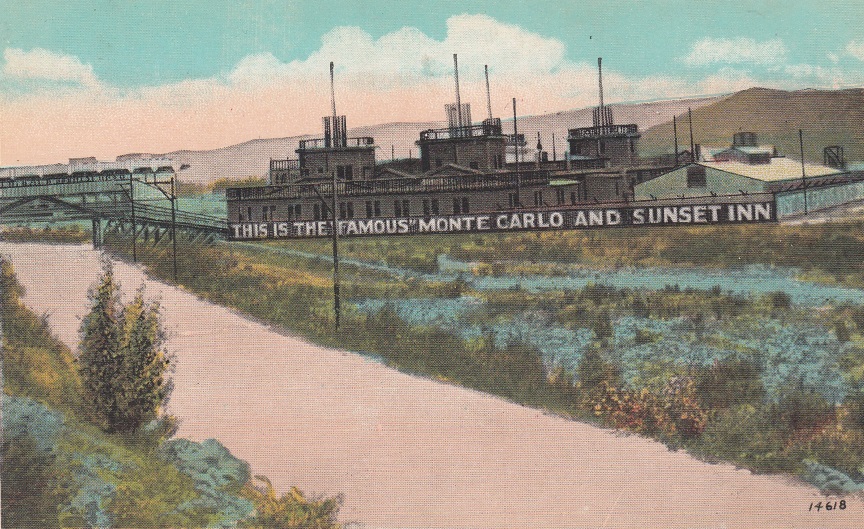 1913-1929
With various state bans on gambling and, later, a nationwide prohibition against liquor, many Americans, particularly wealthy Southern Californians, traveled to casinos in Mexican border cities to play and imbibe.
"The great hegira* is in, and already these towns are filled to the limit with throngs of the thirsty, willing to pay big sums for the pleasures banned by law on American soil," reported the Reno Evening Gazette (March 30, 1920).
Here are some casinos that lured U.S. citizens across the border to do what they legally couldn't at home:
In Calexico
Owl (Tecolote) Café and Theatre: Large but unadorned, "an immense barn-like structure," the Owl boasted nearly 40 tables for keno, faro and poker along with many roulette wheels (The Bakersfield Californian, Feb. 10, 1920). Advertisements for the gaming resort touted: "Both night and day, across the way, you will never find closed, the Owl Café." Three Bakersfield, California, saloon and brothel owners — Marvin Allen, Frank Beyer and Carl Withington — or ABW Corp., opened the Owl around 1913. Seven years later, a fire that raged for three hours burned it down.
"The destruction of the Owl leaves one large gambling house in Mexicali, a Chinese establishment where many of the games are beyond the ken** of the average American," reported The Bakersfield Californian (Feb. 10, 1920).
In Mexicali
Casino de Mexicali: Following the conflagration of the Owl, Governor Esteban Cantu of Baja, California, built and oversaw in his capital city the upscale Casino de Mexicali, which also was open 24/7. Luxuriously appointed, the entire top floor was divided into suites equipped with games for wagering. Cantu charged customers an initial $250 membership tax (about $2,950 today) and a $20 monthly fee. In the first month alone, 2,000 people had joined. In its early days, the Casino de Mexicali drew about 25,000 to 30,000 Americans per day.
"The project stood Cantu an even million dollars before a wheel turned," noted the Reno Evening Gazette (March 30, 1920).
In Tijuana
Feria Típica: This traditional fair, the brainchild of Antonio Elosúa, offered gambling in the forms of cockfighting, bullfighting, bull baiting and horse racing along with folk dancing and Mexican food and drink. It debuted in 1915 with the slogan: "Where Everything Goes and Where Everyone Goes."
Monte Carlo: Elosúa opened this casino the following year. Adjacent to the Feria Típica's open-air arena, it offered cards and dice table games, slot machines and roulette wheels. By 1917, ABW Corp. had bought out all of Elosúa's holdings.
Sunset Inn: ABW Corp. and James "Jim" Coffroth built in 1920 this new $1 million casino with a balcony that overlooked the racetrack. The proprietors added to the casino's events schedule many of the feria's most popular exhibitions, like bullfighting.
"To lure and keep gamblers on the property, the new Monte Carlo served decent enough 75-cent meals and the dance hall stayed open all night," wrote Lawrence D. Taylor (San Diego Historical Society Quarterly, Summer 2002).
Agua Caliente Casino and Hotel: Another trio of Americans — Wirt G. Bowman, Baron Long and James N. Crofton — built this ornate, $10 million, Spanish-style resort that boasted a casino offering faro, roulette and baccarat, horse and greyhound racing among other recreational amenities. Four-person bungalows allowed for gambling in private. Located six miles south of the border near the hot spring, the property opened in two phases, in 1928 and 1929. During its heyday, Agua Caliente attracted a slew of tourists, among them famous Hollywood stars.
"American cupidity has enriched the gamblers of Augua [sic] Caliente more than $4 million in the past 10 months. The Old West in its heyday never saw such gambling as is being done at Augua Caliente these days," reported The Kokomo Tribune (June 7, 1929).
The end of Prohibition curtailed the throngs of U.S. citizens visiting Mexico for pleasures.
——————————
*A flight or journey to a more desirable or congenial place
**Understanding or knowledge