Listen to this blog post here
1949
The article, "Las Vegas Gamblers Arming in Control Battle," ran on the front page of a Los Angeles newspaper in the third week of December, to the chagrin of Nevada gambling regulators, casino owners, officers of the law and other industry representatives.
The story reported that in the new iteration of Sin City:
• Casino owners (gamblers) were readying to fight for control of gambling there
• Many gamblers were carrying weapons and had armed bodyguards
• Men (presumably hired by the gamblers) were cruising competing casinos' parking lots, trying to persuade guests to play at their clubs instead
• Ladies planted in cocktail lounges were directing visitors to specific casinos
• Although unreported, several physical beatings took place in gamblers' inner circles
• One casino owner left the state because his life had been threatened*
• Fixers, dispatched by East Coast Mafia heads, were en route to negotiate a truce
Landscape at the Time
In the '40s, downtown Las Vegas transformed when a handful of its gambling properties changed owners and names. The 1949, or post-war, Fremont Street was home to the:
Las Vegas Club (1930)
Boulder Club (1931)
Frontier Club (1935)
El Cortez Hotel (1941)
Western Club (1941)
Pioneer Club (1942)
Santa Anita Turf Bar (1943)
Monte Carlo (1945)
Golden Nugget (1946)
Club Savoy (1946)
El Dorado Club (1947)
Also in that decade, the city saw the start of what would become the Las Vegas Strip, with the debut of this quartet of hotel-casinos:
El Rancho Vegas (1941)
Last Frontier (1942)
Flamingo (1946)
Thunderbird (1948)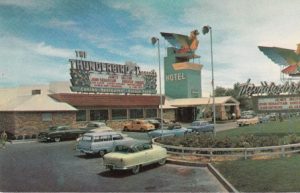 Still fresh in the minds of those in the gambling world was the execution two years earlier, in 1947, of Benjamin "Bugsy" Siegel, violent mobster (Genovese crime family associate) and Meyer Lansky pal. Siegel had overseen (badly) the building of the Flamingo in Vegas, and had run the business until his murder.
In mid-December 1949, the Flamingo double-crossed Club Savoy, which was across the street, with a play that involved a cheating gambling stunt. The incident was extensively reported in the papers when Savoy's owner refused to pay the Flamingo its winnings. It was negative publicity that gambling regulators and state officials disliked.
Also around the time, several casinos agreed to stop some of their blatant efforts to poach customers from other gambling properties. They'd used people on megaphones and "circus-type banners" to inform passersby that their slot machines had better payouts than their competitors'.
The L.A. newspaper article didn't specify which gambling factions supposedly were fighting one another. Perhaps it was a Strip vs. downtown beef.
Similar, Widespread Reaction
The overarching response to the newspaper report from the big names in and associated with the Vegas gambling industry was denial: A turf war? What turf war? Calling the article's contents hogwash, they deduced it merely was an attempt to hurt Nevada's booming sector at a time it would feel it the most, the New Year's Day weekend.
Here are some of the individuals who publicly weighed in and their comments. (All quotes are from the Nevada State Journal, Dec. 29, 1949.)
Gus Greenbaum, mobster, Meyer Lansky lieutenant and Flamingo hotel-casino president:
"The stories to that effect are fabricated entirely," he said, specifically referring to an impending war for control. "No guns are being carried on any hotel or club property except by authorized personnel."
Spokesman for the Nevada Tax Commission, the then gambling regulation agency:
Any impending warfare over gambling control "is news to us."
Spokesman for the downtown casinos, who asked to remain anonymous:
"Relations between the gambling clubs and the casinos are more harmonious than ever. We think the story was carried mainly to counteract favorable publicity given our gaming recently by another Los Angeles newspaper. This whole business has been dreamed up by some eager newspaper correspondent."
William J. Moore, Jr., Hotel Last Frontier executive vice president and tax commission member:
He wasn't aware of any threats on the gambling scene, he said. In fact, the various gamblers have gotten along well in recent months and hold weekly meetings to hash out any issues. The story was "a deliberate attempt to keep California dollars from coming into the state, appearing as it did on the eve of the biggest weekend in the history of gambling in Las Vegas." He added Vegas gamblers aren't using "steerers," or "persons corresponding roughly to 'B' girls in cocktail lounges who direct visitors to a certain casino," which the state prohibits.
Archie Wells, City of Las Vegas acting police chief:
He didn't know about any alleged beatings of certain gambling figures, he said. "We checked thoroughly and found no violence of any kind — reported or otherwise." His department found no evidence the reports perhaps stemmed from possible attempts at revenge by Club Savoy.
Glen Jones, Clark County sheriff:
"We've received the utmost cooperation from all gambling operators." He didn't know of any gambler who was carrying a gun openly other than the special officers with deputy sheriff status in the clubs.
Informal Peace Summit
After the story appeared, the city's casino and gambling club owners quickly convened to address its allegations.
They must've come to a mutually satisfactory resolution, if in fact a battle for gambling control had been underway or imminent, as no lives were taken . . . at least that we know of.
* One gambler, Jake Kettleman, co-owner of the El Rancho Vegas, had traveled to the Middle East recently but was back in town at the time the newspaper article was published, the Nevada State Journal noted.