Listen to this blog post here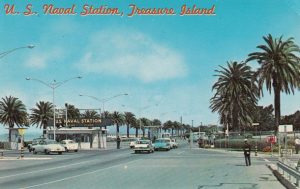 1951
Chief Warrant Officer Marcus Gordon Oliver, paymaster at the U.S. Naval Station Treasure Island, complained of feeling ill and left work early on Friday, April 13.
The following Monday and Tuesday, he didn't show up at the San Francisco office and hadn't phoned. Co-workers called his home in Berkeley and got no answer. Oliver, 44, and his wife, Pollyanna, 34, a civilian clerk in a Navy pay office in San Francisco, seemed to be missing.
Upon learning this, Navy personnel immediately opened Oliver's job safe and discovered the $29,000 ($275,000 today) he'd signed for and was supposed to disburse for payroll was gone. A search for the man who'd been in the Navy 27 years began immediately.  
Spending Spree Reconstructed
Within four days, Oliver was found in a hotel room in New Orleans, Louisiana, returned to San Francisco and charged with embezzlement and misuse of $29,000 in government funds.
During his federal court trial on April 22, a parade of witnesses — racetrack parimutuel clerks, casino workers and hotel staff members — testified to seeing Oliver patronize their businesses, gamble and spend money. Those included the Bay Meadows Racetrack in San Mateo, California and casinos in Reno, Nevada. For instance, Thomas J. Hill, a casino worker at Reno's Mapes hotel-casino, said he saw Oliver bet an unopened package of $200 ($1,900 today) in $2 bills on a single dice roll.
Contrarily, a defense witness, Leonard Faust, a Navy chief petty officer, also at Treasure Island, said he'd seen Oliver, earlier in the month, win big on two different occasions when betting on horse races at Bay Meadows —$9,000 on one, $6,000 on the other.
Accountability: Opposing Views
Oliver claimed he'd experienced a seven-day blackout and denied taking or using any of the Navy's money. He insisted the $15,000 ($142,000 today) he'd spent during his "missed time" was his own, cash he previously had won ($9,000 and $6,000) at Bay Meadows.
Nevertheless, the judge deemed him guilty and sentenced him to three years in federal prison.