Listen to this blog post here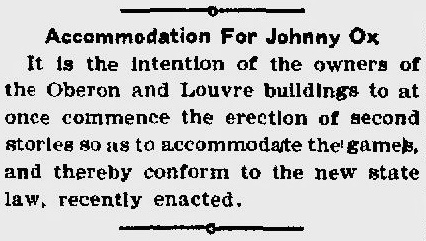 1903
"Accommodation for Johnny Ox," a gambling-related headline in the Nevada State Journal, March 17, 1903, puzzled us. Curious (read: obsessive), we set out to decipher it.
The brief news item relayed two gambling saloons in Reno — the Louvre and the Oberon — planned to build an upper level onto their one-story building in which to offer games of chance, per the new law. Accordingly, gambling no longer could take place on the ground floor, even if it was in a back room. Rather, it had to be confined to the second floor.
Given that information, it seems reasonable to assume "Johnny Ox" was a personified reference to gambling. But from where did the name come? Who was Johnny Ox?
Answer in the Midwest
As far as could be determined, the name came from a true story out of Indianapolis, Indiana. There, a man named Johnny Ox had been arrested numerous times for being involved in running illegal gambling. Each time, he'd paid his fine and, apparently, had gone right back to taking part in the illicit operations.
At some point, someone realized there was no Johnny Ox listed in the city directory and, thus, must not have been the real name of the man. His true identity became a brief mystery among the officers.
Once they figured it out, The Indianapolis News reported it. It turns out Johnny Ox was the alias of a well-known gambler in the area named T. Thompson.
"His business is to look after the kitty in the various poker games with which he has been associated for years," the newspaper reported (Nov. 19, 1903).
That year Thompson began working for the syndicate that owned, controlled and operated nearly all of the gambling in Indianapolis. Two partners, Fred Heier and Jack Shea, were behind the group, offering poker, high-limit poker, craps and roulette at various locations in the city. Previously, Thompson had worked for William "Bill" Kissel, a small-time operator who ran a single poker game in Indianapolis.
A New Question Arises
What we of It Really Happened! can't figure out is this:
How did a Reno newspaperman know the Johnny Ox story such that he alluded to it in the March headline when the first published reference to Ox in Indianapolis didn't happen until eight months later, in November?
Our search of two databases of historical newspapers didn't turn up any other Johnny Ox references going back to 1895, but that's not to say one didn't exist, somewhere.
Implausible Alternate Theory
Research also revealed that "Johnny Ox" and "Johnny Bull" interchangeably had represented the Saxon people, as they'd been enslaved and "held under the yoke" of the Normans (Oregon City Courier, July 16, 1914). The symbol grew, however, to represent English people as a whole.
Later, the two Johnnys morphed into John Bull, a symbol of the United Kingdom, much like Uncle Sam is to the U.S.
We try substituting "the Brits" or "the U.K." for "Johnny Ox" in "Accommodation for Johnny Ox." In this new context, the headline doesn't make sense (unless we're missing something), so we discredit this hypothesis.
Ultimately, we return to our Indianapolis gambler theory.
Can you add any information? We'd love to learn what you know.
———————————